Hikers, mountain bikers, ATVers and horseback riders share a wealth of scenery accessible on Princeton area backroads and trails. Follow the Trans Canada Trail through tunnels, over trestles, into deep canyons, across grasslands and into the forested highlands. Move on to explore historic trails and climb to panoramic lookouts with views of the snow-capped Cascade Mountains. These are just some of the few things that can be accoplished thanks to some sort of accesibility by motorized vehicle. This makes getting to that backcountry lake or hidden trailhead that much easier.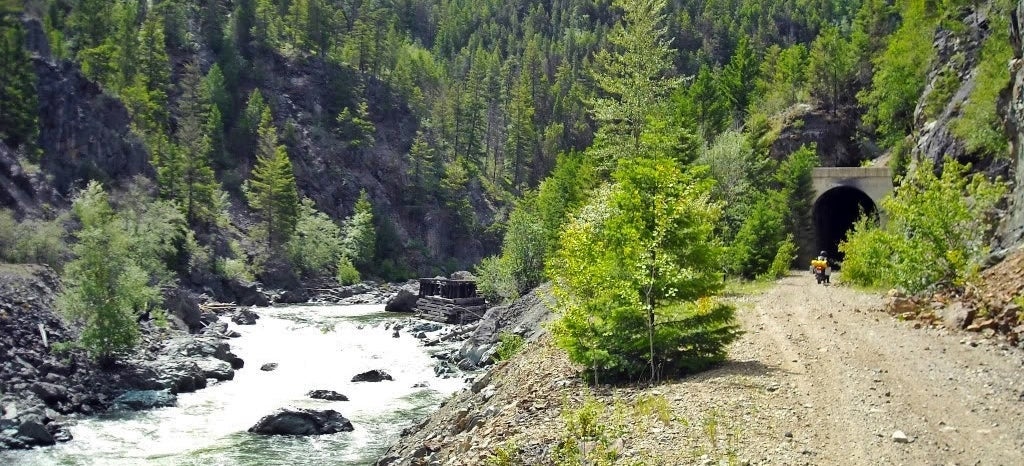 The Trans Canada Trail in the Princeton area is entirely on the Kettle Valley Railway. The area encompasses the communities of Brookmere, Tulameen and Coalmont to the west of the town of Princeton, and climbs into the grassy highlands on its way to Osprey Lake - home to Bankeir and its many seasonal cabins and camp sites.

The scenery is quite unique along the trail, a particular treat for those traveling along the KVR from the Fraser Canyon. While the coast is shrouded in fog and rain, the interior is often warm and dry. Ponderosa pines and grass grow under the blazing sun and blue sky. There is a wide variety of amenities and services including world class B&B accommodations and miles of backwoods trails to explore.

Remember the days when sharing, friending and liking took place in person, with other people? Well at China Ridge Trails it still does! Just off of BC Highways 3 or 5A at Princeton's backdoor, you'll discover a big, wide playground of grassy slopes and reforested areas. Folks have been playing at "the Ridge" for years, getting their fill of chills and thrills cross-country skiing, snowshoeing, horseback riding, mountain biking and hiking trails that go on forever.

There are 45 kilometers of well-maintained hiking, skiing and riding trails winding through the Ridge and 19 un-groomed trails; making for some of the most extensive and easily accessible trails in the Similkameen Valley. Ride, slide, glide or hike our un-crowded trails and rekindle your love of the outdoors, just by playing around in our woods.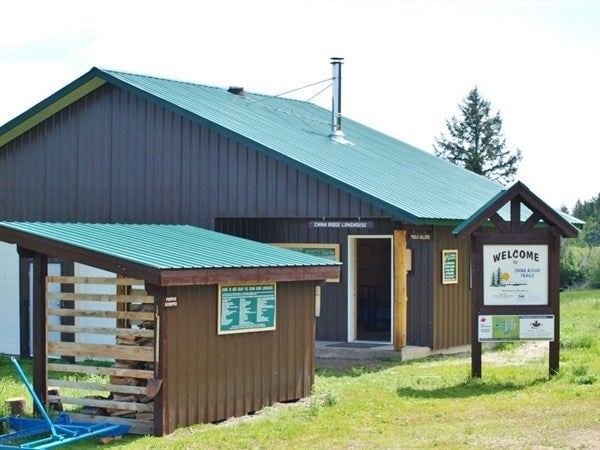 Explore our extensive network of China Ridge Trails while mountain biking, cross-country skiing, snowshoeing, hiking, nature viewing and horseback riding. Located only 8 km from downtown Princeton, access is via Bridge Street, left onto Tulameen Avenue and right Onto West China Creek Road. For winter enthusiasts we have over 40 km of professionally tracked cross-country ski trails, 15 km of snowshoe trails, 20 km of managed trails that allow you to ski with your dog, and endless avalanche free back country skiing opportunities. In summer, China Ridge is a horseback rider's dream of unlimited, easily accessed trails for all ability of riders.  Mountain bike trails include a recently built 15 km single track mountain bike trail. With the existing 55 km China Ridge Trail Network, these new trails allow various loop options including riding the KVR and visiting the beautiful white sands beach located on the Tulameen River.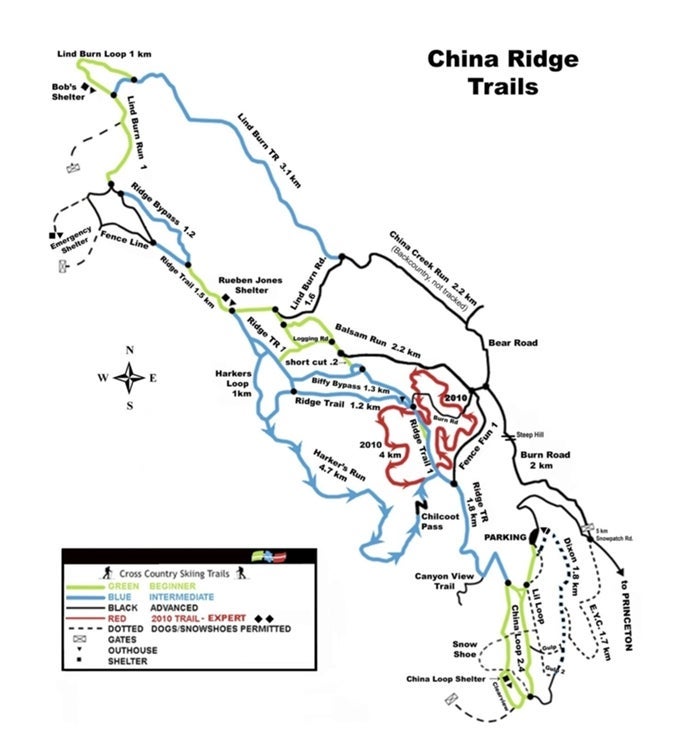 Hiking
From a leisurely stroll to a challenging hike, it's possible you could spend days hiking China Ridge without encountering another soul, but the fun of China Ridge is sharing it with others. Hike the Ridge and discover life above the clouds where the sun is shining and the sky is so big you can see clear to the Coquihalla Range.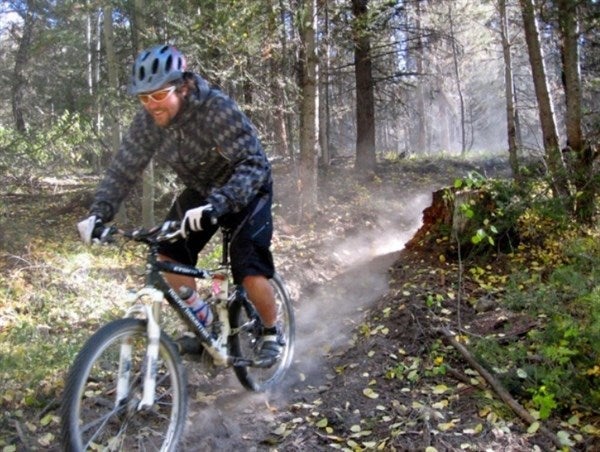 Mountain Biking
Who knew getting dirty could be so much fun? For those that prefer two wheels to two feet, there are 10 kilometres of excitement just waiting for you here. Forget going to the spa out here. Ladies like to grab their suspension bikes and hit the rails for a mountain-size workout, getting down and dirty riding the Ridge. Come along for the ride and cool off at the summit with ice-cold beverages and enjoy some savory treats before going home tired, dirty and happy. Ride where four wheels would never allow you to go.
Nordic Skiing
Beautiful in summer, China Ridge dazzles in winter. Bluebird sky days and dry powdery snow create the perfect setting for family-friendly winter fun. We like to say we're anti-spandex here, so just bundle up for the elements and grab your skinny skis; we'll see you on the trails! Die-hard romantics delight in a winter picnic deep in the woods with a moonlit ski out, following fresh laid tracks of rabbit and the occasional wandering moose.

Dog Friendly
Daytime or night time, under the bright winter sun or the light of a silvery moon, nothing beats skiing fresh tracks on newly-fallen snow, except maybe sharing the experience with man's best friend. We have 20 kilometers of K-9 trails, so bring Fido along to frolic in the snow.

Open year-round, there's always something happening at China Ridge Trails. Check out their events for a guaranteed good time.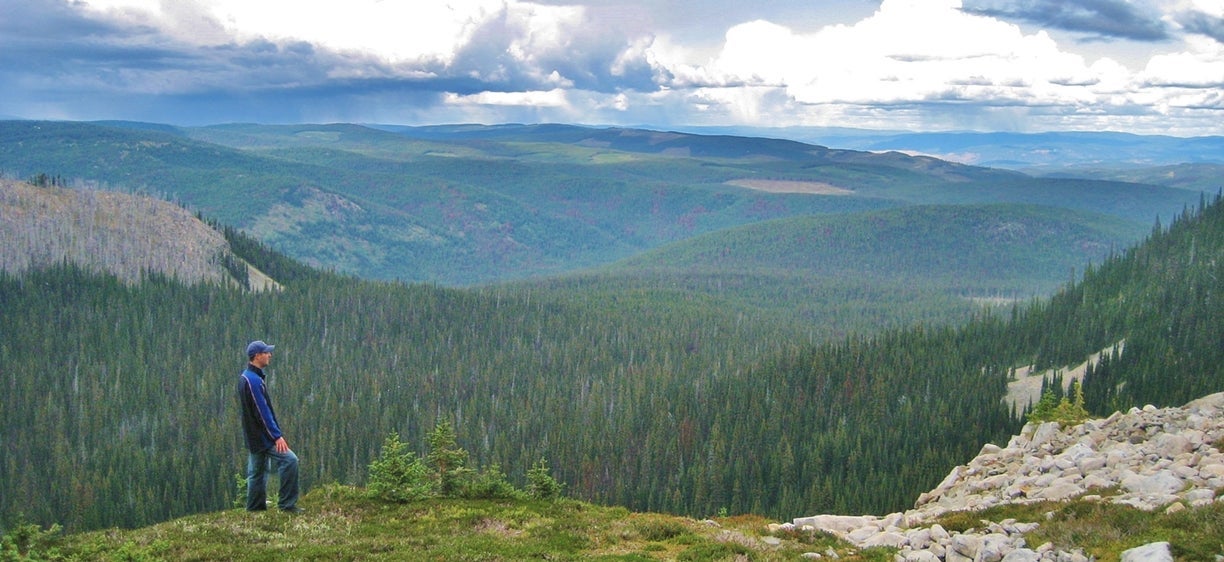 Hiking
Manning Park's hiking and walking opportunities are unique and varied depending on one's interest and ability: from a 15 minute walk to a 5 or 6 day hike. This 70,884-hectare park is comprised of rugged mountains, vast forests, sub-alpine meadows, sun-dappled lakes, and white water torrents.
For information on EC Manning Provincial Park please visit the BC Parks website, where you will find full details on campgrounds, trails and fees.
Pdf Trail Report
Map of Manning Park
EASY

Lightning Lake Loop: 9km return / 2.5 hours. Begins at Lightning Lake Day Use Area or at the Spruce Bay parking lot.
Lightning Lake Chain: 12 km one way / 3.5-4.5 hours. Begins at Day Use Area; or 10 km one way / 3-3.5 hours. Begins at Spruce Bay.
Rhododendron Flats: 0.5km / 15 minutes. Begins on Hwy 3, approximately 9 km east of the west portal.

MODERATE

Castle Creek/Monument 78: 12km one way / 3.5hours / elevation change: 200m. Begins at Monument 78/83 parking lot. Winter nordic or snowshoe trail only.
Dewdney Trail: 36km one way / 14-16 hours / elevation change: 1131m. Begins at the Cascade Recreation Area parking lot and ends at Dick's Cabin in the Cascade Recreation Area.
Heather Trail: 21km one way to Nicomen Ridge / 8-10 hours / elevation change: 292m. Begins at Blackwall parking lot.
Hope Pass Trail: easy-moderate 23.5km one way / 10 hours / elevation change: 1000m. Begins at Cayuse Flats.

DIFFICULT

Bonnevier: 25km one way / 8-10 hours / elevation change: 950m. Begins at Blackwall Peak parking lot.
Frosty Mountain Trail: 29.3km or 27.7km depending on route / 9-11 hours / elevation change: 1150m. Begins just past dam on eastern end of Lightning Lake.
Grainger Trail: 17.5km one way (includes 6km along Hope Pass Trail) / 5-7 hours / elevation change: 952m. Begins 25km west of the Visitor Centre at Cayuse Flats.
Monument 83: 16km one way / 5 hours / elevation change: 850m. Begins at Monument 78/83 parking lot.
Pacific Crest Trail: 13km one way / 4 hours / elevation change: 450m. Begins at Windy Joe/Pacific Crest parking lot on the Gibson Pass Road.
Poland Lake Trail: 8km one way / 2.5-3 hours / elevation change: 435m. Begins at Strawberry Flats parking lot.
Skyline I: 20.4km loop / 7-9 hours / elevation change: 775m. Begins at Spruce Bay parking lot or Strawberry Flats.
Skyline II Trail: 12.5km to Mowich Camp / 5 hours / elevation change: 469m. Begins at Strawberry Flats.
Whatcom: 13km one way / 6-7 hours / elevation change: 1082m. Begins at the Cascade Recreation Area parking lot.
Windy Joe Mountain: 16km return / 4.5-5.5 hours / elevation change: 525m. Begins at Windy Joe / Pacific Crest parking lot on the Gibson Pass Road.

BIKING
Great views, good climbs and quick descents sum up mountain biking in Manning Park. Many of the biking trails are on fire roads so they are fairly wide. Mountain bikers are asked to yield to hikers and horses.
Backcountry trails permitting use of mountain bikes:
Monument 83, Windy Joe, Poland Lake, East Similkameen, West Similkameen, Lone Duck, North Gibson and South Gibson.
Mountain bikes are permitted on all roadways throughout the park.
HORSEBACK RIDING
Horse riding is another fantastic way to enjoy some of the scenic backcountry trails in Manning Park.
Please be advised that Manning Park Resort does not have horses for rent.
Trails permitting horses are: Monument 83; Dewdney; Windy Joe; Skagit Bluffs, Similkameen East and West, North Gibson and Little Muddy. Horse Camping is available at the Headwaters Corral located near the Resort Lodge and backcountry horse camps are available on the Dewdney and Hope Pass trails.
For more information about bringing your horses to Manning Provincial Park please visit the 
Back Country Horseman of British Columbia website.

Located 48 km southeast of Princeton off Hwy 3, The park offers three campgrounds in its core area: Quiniscoe Lane, Pyramid, and Lake of the Woods. Fires are allowed only at Quiniscoe Lake, and private vehicles aren't permitted in the core area of Cathedral, so you must hike in or arrange transportation with Cathedral Lakes Lodge.




Hiking:
 There are several well-defined hiking trails in this park. Hikers will require at least a full day to hike one-way into the core area.
Climbing: 
Grimface, the Matriarch and Macabre Tower offer mountaineering opportunities for experienced climbers.