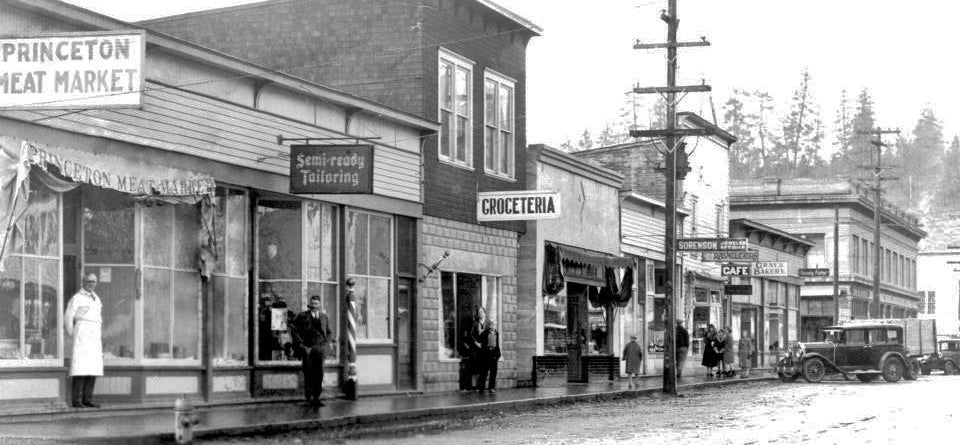 In the early 1800s the town was called Vermillion Forks by the fur traders travelling the Hudson Bay's Brigade Trail from the west coast to the interior of BC. In 1860 the name was changed to Princetown by Governor James Douglas, in honour of the Prince of Wales who was visiting that year.
Long before the arrival of the first white settler to the area, the land at the confluence of the Similkameen and Tulameen Rivers was inhabited by the Indian nations of the area. Several miles up the Tulameen are the Vermillion Bluffs, the source of the highly prized red ochre used for trading and face painting by many different Indian nations.
The first white settler to the area was John Fall Allison who came seeking information for Governor Douglas. Not long after arriving, Allison built a cattle ranch where the town is now located. The years 1909 and 1916 brought the Great Northern Railway and the Canadian Pacific Railway to Princeton, another link to the Coast and Interior. Princeton was incorporated as a village in 1951, and as a town in 1978.
Historical sites in the area include 
Granite Creek
 town site, founded by Johnny Chance when he stopped here for a drink of water and discovered gold nuggets lying at the bottom of the creek, 
Blakeburn
, the home of an underground coal mine in the early 1900s, 
Coalmont
, named after the coal deposits mined after the gold at Granite Creek ran out, 
Tulameen
, originally known as Otter Flats, 
Allenby
, a mining town that received it's economic riches by mining ore from Copper Mountain, and 
Hedley
, site of famous Nickel Plate Mountain. You can also meander along the Historic Walk around downtown Princeton, a centre for mining in the old days, and discover a bit about the town's history and heritage, with a short story about each site.