Princeton hosts a number of festivals and events each year. Standouts include The Princeton Pro Rodeo, a traditional cowboy culture get-together held in May. Princeton Racing Days is a horse racing meet that's been running for over four decades. On a different note, traditional music fans will want to check out the Princeton Traditional Music Festival in August, complete with fiddlers, Celtic balladeers and Morris dancers. Read on below for more details on these and other special events.
Princeton Pro Rodeo (May long weekend)

Are you ready for fun and excitement? Then plan on attending the May long weekend rodeo in Princeton. The Rodeo usually starts at 1:00pm both days and will feature Bull Riding, Saddle Bronc Riding, Bareback Riding, and many more exciting events to keep you on the edge of your seats. There is a refreshment garden and a concession stand, plus vendors selling souvenirs, and plenty of parking. The clown "JJ Harrison" will keep you entertained and the announcer, Al Parsons, will let you know who is riding, how they did and what is coming up next. Get on your best western duds and come on down to Princeton to enjoy one of the best rodeo performances in BC!

Tulameen Family Fun Days (August long weekend)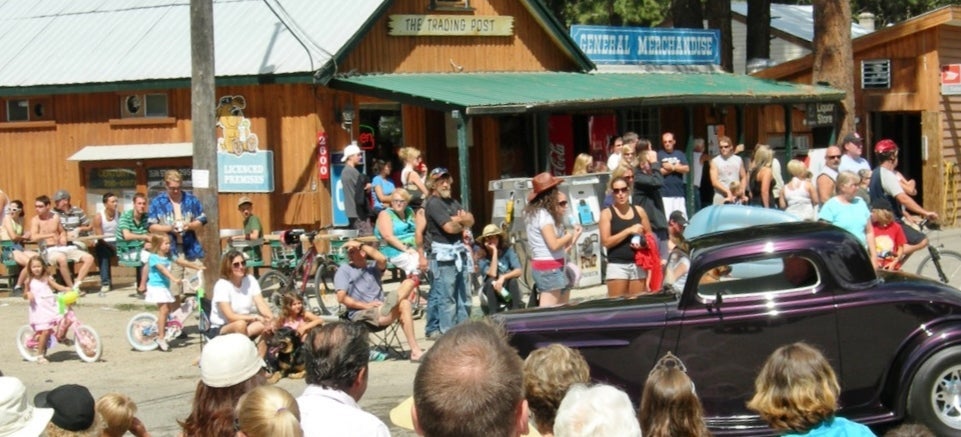 Where's the party? Of course the whole world knows, because this popular event has been going on for years. Thirty five to be exact. You can get a program (pdf format) from the Tulameen web site. There are lots of activities and crafts for children and the younger people of our community, there's a beer garden for the adults, with a horse shoe tournament. The community puts on a baron of beef/cob of corn lunch at a great price at the town community hall. There are a lot of sights, contests, duck races, raffles and booths to check out on the main street, in town, plus a pancake breakfast, and town clean-up on Monday. A parade takes place on Saturday at noon. All funds raised from the Tulameen Family Fun Days events supports the community of Tulameen and the Tulameen Fire Department. This BC day weekend is already well on it's way and we've seen a lot of campers trundling through Coalmont all day. It looks like the area is going to be hopping. As the picture of the Magic Tree might indicate, the consumption of beer is a pastime enjoyed by many, but at it's heart, the Tulameen Days event is very much a family affair.

Princeton Racing Days (July long weekend)


Racing Days is a huge part of Princeton's history. During Racing Days weekend in Princeton there is of course horse racing, but  there are also family reunions, class reunions, and the gathering of old residents and friends from throughout BC, across the provinces and the United States. They all come to enjoy the hospitality of Princeton and its residents. 2012 marks the 45th Running of Princeton Racing Days at Sunflower Downs. The day's events will include: thoroughbred horse racing, pari-mutuel betting, refreshment garden, entertainment and concession. Post time for this event is 3:00 p.m. The weekend also holds; Canada Day celebrations, The Rotary parade, Princeton Youth Ambassador Coronation, the Lions Club Annual Duck Race and their Pancake Breakfast. This year also marks the 10 year Anniversary of the Overwaitea/A&W Show & Shine on July 2. This is truly one weekend you don't want to miss!

PXA Fall Fair (September long weekend)


The Annual Princeton & District Agricultural Fall Fair is an event for all ages. Come enjoy the many agricultural exhibits, children's activities, demonstrations and competitions. Visit the vendors offering great food, information on their businesses and all kinds of items for sale. Horseshoe Tournament runs Saturday with registration at the pitch at 10:00 am. BINGO Saturday & Sunday. Live music Saturday night in the Beer Gardens.

The facility consists of a beer garden with a stage and dance floor, a race track approved for thoroughbred racing, a rodeo complex for professional rodeos, a grandstand, parimutuel facilities, an office space, large washrooms, a concession building, stalls, barns, and three multi-purpose buildings suitable for small gatherings. Chairs and tables, along with picnic tables, round out the equipment for rent for events.

Rodeos, horse racing, a fall fair, horse training, stall rentals: these are all part of what takes place at Sunflower Downs, a multi-purpose facility owned by the Town of Princeton and managed by the Princeton Exhibition Association. This facility has been rented for weddings, the ATV-BC summer rendezvous, the B.C. bull riding finals, family reunions and a gathering of recreation vehicles and their owners. It has been the site used for a major western concert, for the RCMP musical ride, for gymkhanas, flea markets and for cattle weighing. When we say "multi-purpose" we mean it!

Car Show and Shine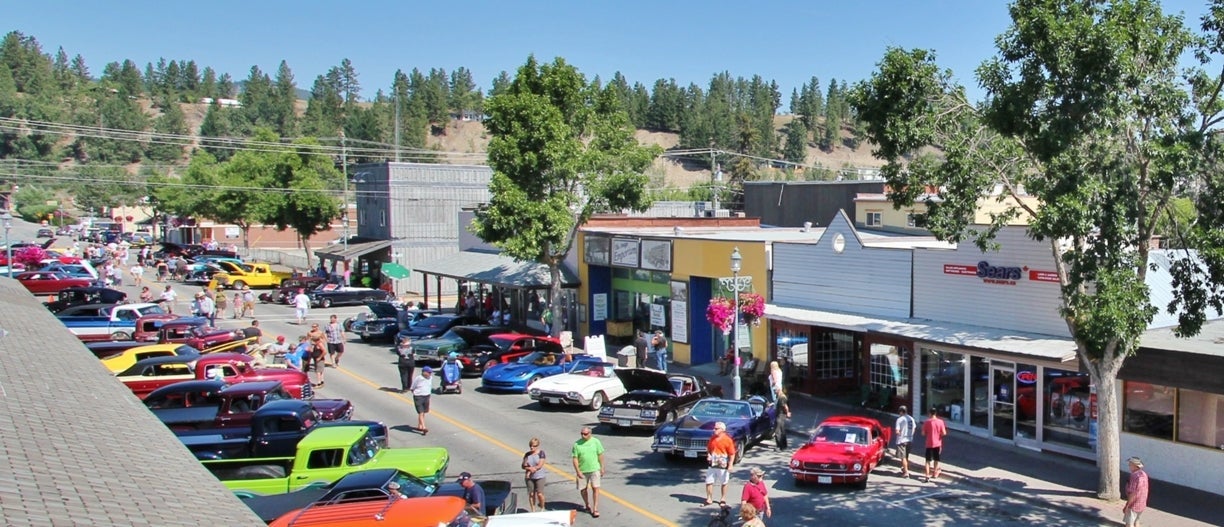 Legion Branch #56 Diamond Dinner (Early April)

Diamond Dinner dazzles! One hundred and twenty ladies, some of who stood in line beginning at 6:30 in the morning to get tickets a month before, are treated to a semi-formal dinner and dance on Saturday, April 6. Each lady in attendance receives a long-stemmed red rose and the opportunity to win diamond jewellery, a trip voucher and various other prizes. The Annual Diamond Dinner hosted by the Royal Canadian Legion, Branch #56 is provided by John Haayer and his merry band of gentleman volunteers. After dinner and prizes, the party continues in the lounge with attendees dancing the night away to musical entertainment.

Traditional Music Festival (Mid August)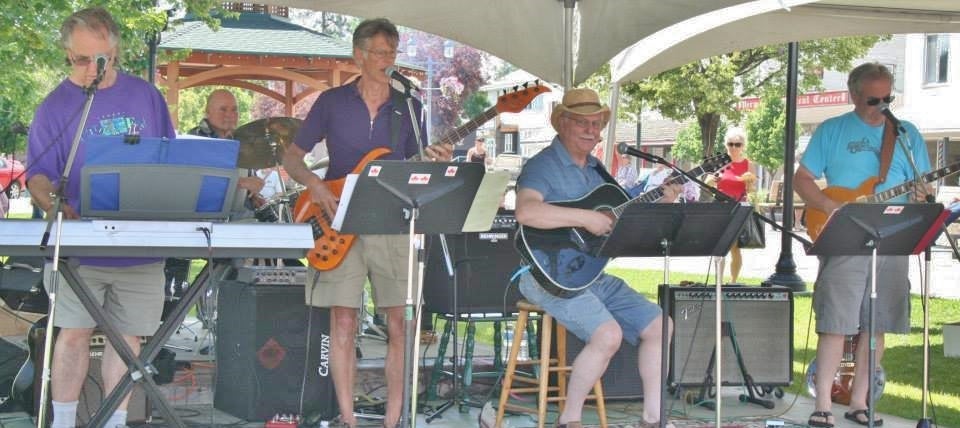 The Princeton Traditional Music Festival is an annual three-day musical extravaganza right in downtown Princeton. Hear fiddle tunes, bagpipes and harps. Sing along with rousing sea shanties. Dance in the streets to Celtic music played on an accordion and fiddle. Hear musicians from right next door or from across the ocean. Watch English Morris dancers or Middle Eastern belly dancers perform to live music.
The 2018 Princeton Traditional Music Festival will be held from the 17-19 of August and comprises 2 stages set up on the streets right in the heart of Princeton. This free event has been most successful and we expect the 11th annual to be even more exciting. The event features fiddle tunes, sea shanties, celtic traditional ballads, accordion music, concerts, workshops, morris dancing and much more. Please visit their website for more information.
The Festival takes place as usual on two stages in the centre of Princeton, and begins, as last year, with a public street dance and an Irish Celtic band. Saturday and Sunday are given over, between the hours of 10 am to 6 pm, to a potpourri of concerts, workshops, panels and jams.
Music won't just be found on the stages – mini-jams and guerilla dances are liable to happen anywhere in town culminating in a Saturday evening town-wide party. The Festival is free, though it asks its audience to help with donations.
The Princeton Traditional Music Society was founded by Jon Bartlett and Rika Ruebsaat, who have a life long commitment to this music. They are singers of traditional song and scholars of ballads, shanties, and other folk songs. The Princeton Traditional Music Festival, and its success, is a testimony to their passion and hard work.
Of course, the performers at the festival are an important part of this community, as are the people who provide staging and other services. Those who over the years have come to visit, sing, play, and share their culture at Jon and Rika's home cannot be forgotten. With this forum, perhaps there will now be some like minded people joining in who are unable to visit Princeton in person. They too are important, and welcome. Click for more info: 
princetontraditional.org
Rotary Wine Festival (February/March)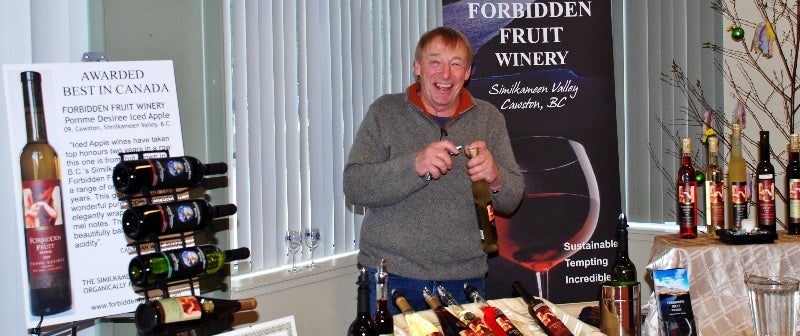 The Rotary club holds a Mid Winter Wine Festival to celebrate wineries within the Similkameen Valley. This year, it was held on February 17th, 2018. The annual event features raffles, a silent auction and door prizes. All proceeds go to benefit Rotary local projects.

District 5060 is an international district of 60 clubs and approximately 2,950 Rotarians in central Washington, USA, and south central British Columbia, Canada. It covers a distance of 550 miles (890 km) from Clearwater, BC, in the north to Prosser, WA, in the south. Principal cities are Yakima and Wenatchee in Washington, and Kelowna and Kamloops in British Columbia.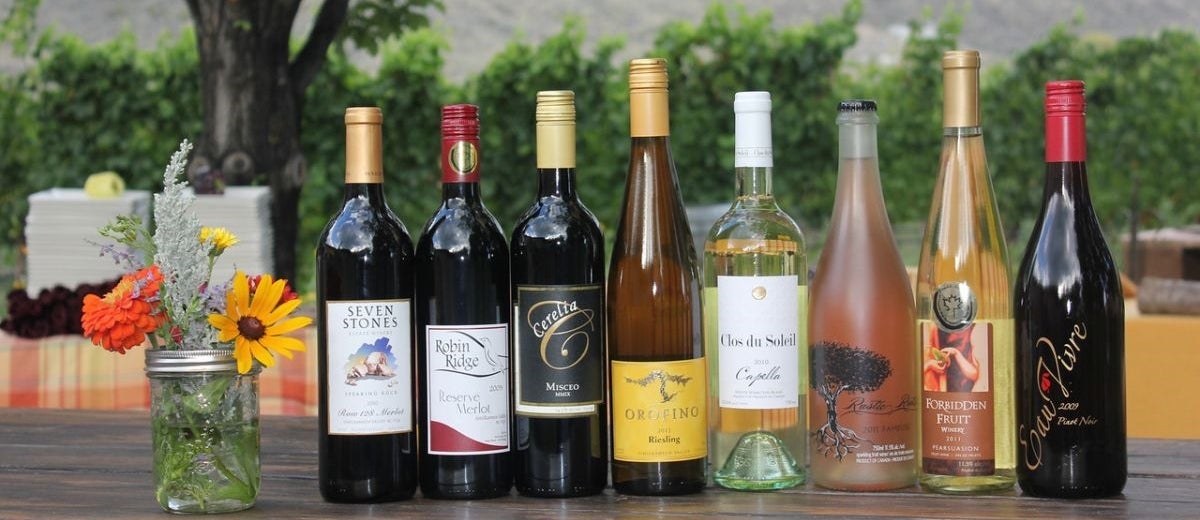 Recently named by enRoute Magazine as one of the "world's best wine regions you've never heard of," the Similkameen wineries are starting to get some of the attention they deserve. This little patch of vineyards and orchards in the hot, dry and sunny Similkameen Valley is turning out some stunning grape and fruit wines. Set amongst the dramatic backdrop of craggy mountains, it is not surprising that wine lovers are starting to take notice.


List of popular wineries:

Cerelia Vineyards & Estate Winery

Clos Du Soleil Winery

Eau Vivre Winery

Forbidden Fruit Winery

Orofino Vineyards & Winery

Robin Ridge Winery

Rustic Roots Winery

Seven Stones Winery

For more Information: 
www.SimilkameenWine.com