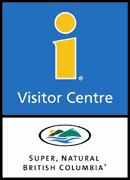 Coalmont is a small village neighbouring Tulameen, just a few kilometres southeast. A historical mining town, it was established in 1911 to serve as a supply point to the neighbouring coal mine at Blakeburn. Coalmont was also a junction on the Kettle Valley Railway, whose roadbed is now the Trans-Canada Trail. Nearby areas include now abandoned towns of Blakeburn and Granite Creek. The original Hotel is still open to the public and serves drinks.
There are about 60 houses within Coalmont's townsite. Many of them have full time residents. The stable population is approximately 85, which includes around 20 people who live in the peripheral area. The current number of children is around 8. On top of that, there are about 20 property owners who are weekend and seasonal residents. There are also a handful of regular visitors, some of whom have been coming here for many years.
Located on one of the many floodplains along the Tulameen River, the town is nestled snugly in the northernmost Cascade mountains. Despite low average temperatures for all but the summer months, there are a lot of sunny days all year round. The river is usually low in the summer and sometimes dangerously high in the spring. The last major flooding event was in 1995. 


Coalmont has no real industry of its own. It was originally set up as a distribution point for the mines and grew to include normal small town businesses and residence but the last store closed 20 years ago. Although tourism has been suggested as a contemporary substitute, there are only three small businesses. The log cabins, a new three unit motel, and the Coalmont Hotel which only operates as a bar. The whole area is mainly used for hunting, fishing, motorized camping, and off road motorsports. There is a large amount of tourism in the Princeton and Tulameen areas and Coalmont is overrun in the summer and long weekends, but apart from the three business mentioned, there is no direct economic benefit to the town.

Mining was the mainstay for many years. The main finds of gold and platinum are long gone, but some claims continue to be worked and hand mining is still practiced by a few hardy souls. The major coal industry stopped in 1940 but there have been some sizable developments in the intervening years. Mining corporations have been trucking out coal as recently as 2013, where there's still a licence for many tons. 

The area has two ranches and there is a small amount of hay grown for local use only. There are free-range cows wandering the whole area and they can occasionally be seen in town.

Logging has been done here since the beginning, but has recently gained momentum. There is regular traffic of logging trucks through Coalmont. Although the only large mill is in Princeton, many logs go in the other direction for processing in Merritt and elsewhere. Coalmont is located in the Cascades Forest District.


The area became well know in the late 19th century because of the gold and platinum finds. The plentiful coal soon became an interest and the town of Coalmont was established in 1911. The town thrived in the 1920's but the mine closed in 1940 and most people left. Despite having no public utilities and being on the verge of becoming a complete ghost town for many years, Coalmont continued to survive because of it's location and the tenacity of the unique individuals who chose to stay.

Probably due to the town being semi-abandoned for many years, the lifestyle has embodied values which are perhaps more common to remote settlements. Little is done which does not include motorized vehicles. Mechanical skills are taken for granted, even by young people. Those that are retired, love to spend their time working with engines or old and antique cars. In addition to cars, many residents have a truck, either to get firewood or for recreational pursuits. Quads, dirt bikes, and especially snowmobiles, are popular and most people own at least one of those.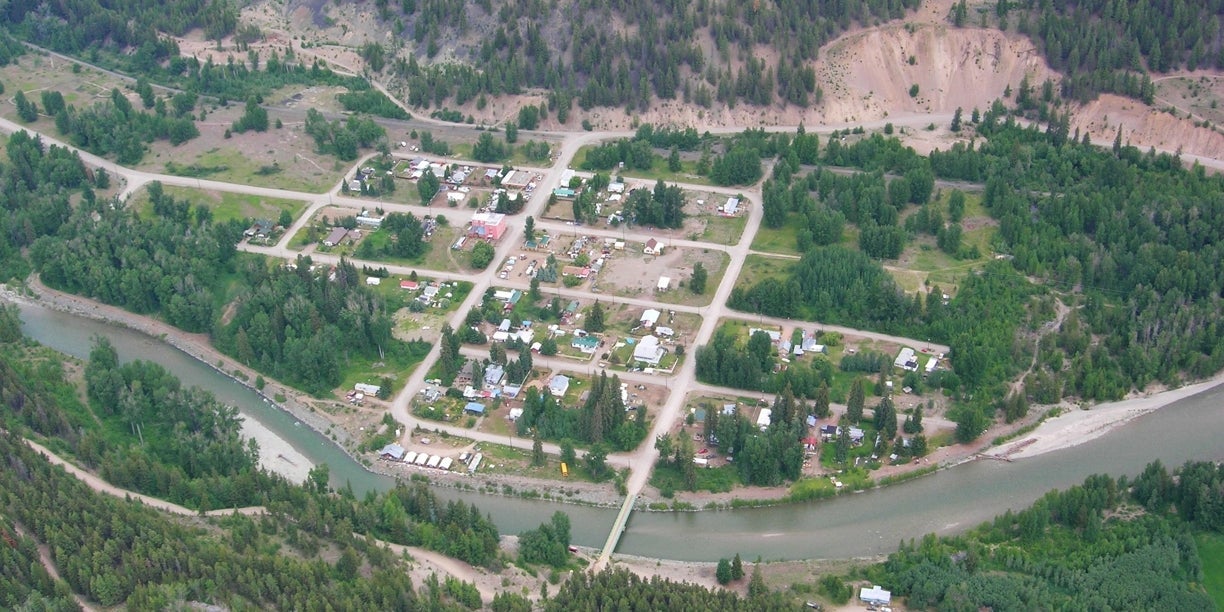 Despite the changing times, Coalmontians still show a distinct pioneering independence. Since there is no public water or sewage, people learn to deal with the everyday problems of water pumps and septic fields. Many have gasoline operated emergency generators to cope with power outages, particularly because water pumps are almost all electric. Houses are generally heated with wood, partly for historical reasons, and partly because it is free or almost so. Most do their own building and repairs. People have tools. They hoard building supplies and things that can be used in the future. It is common to fix things if they are broken. This all gives a certain "look" to the town that is familiar and comfortable to locals but may seem unacceptable to outsiders.


Children take the school bus into Princeton. In the summer they go down to the river to cool off. In those ways the culture is similar to other small Canadian towns. The closest stores are 18 kilometers away and very limited in scope, with only one major grocery store there. Television reception is by satellite only and the telephone is of the old fashioned hard wired type. There is no reliable reception for any cell phones or commercial radio. Broadband, which is in the form of wireless, has only been here since the end of 2006 and many people don't have computers.

The environment has much effect on the lifestyle here. In the winter, people need to clear snow in order to maintain access to the road. Houses and vehicles also need extra attention to cope with the long winters. Home heating is an issue during December and January, at which time it never gets above freezing. The long winding mountain road to the Princeton shops is sometimes a challenge, although it is usually plowed twice a day in the winter because of the school bus. The many slides in the area also create a hazard with rocks and gravel on the road, but that too is cleared frequently. The summer, particularly July and August, is quite hot and dry and the lack of water noticeably effects the vegetation. 


The inhabitants are a mixture of people born in the area, others that came to pursue a lifestyle not possible where they came from, and those that just have a love of the area. There is a relatively high proportion of part time residents. Colmontonians have a marked "live and let live" attitude, and generally respect those that came before. Unlike in many communities, oldtimers and long time residents enjoy some elevated status.

There is a traditional small town sense of responsibility, and people are very helpful to each other. The sharing of resources such as auto parts and building supplies is common. Nevertheless, Coalmontonians display a "frontier" independence, lack of interest in institutionalized services, and some antipathy towards middle-class, urban practices.
Recent increases in government legislation and other outside pressures are causing local-translocal tensions. The desire to preserve the friendly atmosphere and free but unconfrontational lifestyle is clashing with the push to update Coalmont to urban and national standards. Oldtimers tend to want things to stay the same, and more recent arrivals wish to sustain the vital aspects of community life and identity that first drew them here.
Courtesy of http://www.coalmont.net/geography.html


White Sands Beach:
Located just south of Coalmont on the Trans Canada Trail, White Sands Beach is a beautiful spot on a hot summer's day. The Tulameen River slowly meanders underneath the trestle creating a perfect swimming hole with a white sandy beach to soak up the sun.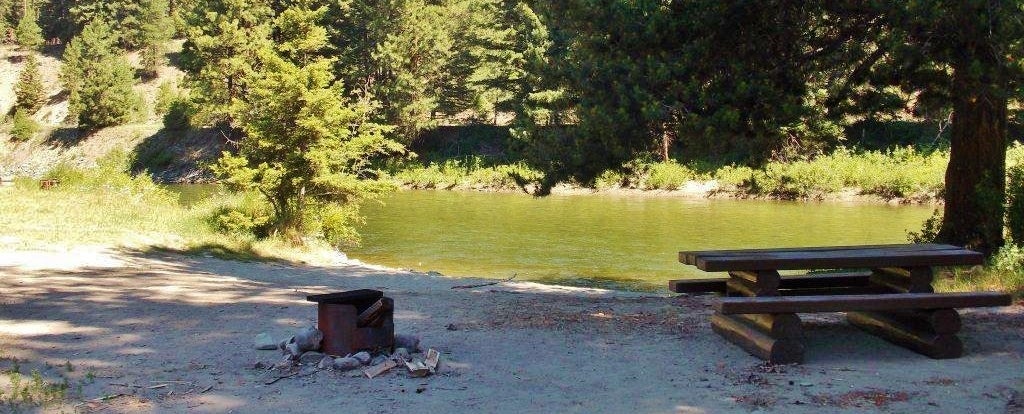 Granite Creek Rec Site: 
The popular recreation site at Granite Creek supports a number of recreational activities on and along the Tulameen River. Popular activities include ATVing, hiking and mountain biking the nearby Kettle Valley Railway, Exploring Granite City & Blakeburn ruins and paddling in the Tulameen River.
Facilities

: 21 campsites, tables, toilets 

Location

: Located 18 kms northwest of Princeton on the Coalmont Road. From Bridge Street in Princeton cross the Brown Bridge, turn left onto the Tulameen Ave for 2.3 km which then becomes the Coalmont Road and continue on for 15.6 kilometres to the town of Coalmont. Turn left onto Main Street and proceed for 150 metres, turn right onto Bettes Avenue and proceed 260 metres, go across the bridge over the Tulameen River and turn left and continue to stay on the main road for 2 kms until you reach the Recreation Site.
Vuich Rec Site:
(34.4km) Forested three vehicle campsite with a nearby trail that views the cascading waters of Vuich Creek (33.9km). 
Sutter Creek Rec Site:
(34.6 km) Serene three vehicle campsite perched on the high banks of Sutter Creek. Bright and open site nestled alongside a rushing mountain stream. 
Jacobson Lake Rec Site:
(45.8km) Treed six vehicle site with horse corrals and additional vehicle parking for trail users. Trailhead for the "Treasures of the Tulameen" complete with information kiosk and map. Brochures will be available at this location. Lodestone Lake Recreation Site:
TRAILS
Hudson Bay Heritage Trail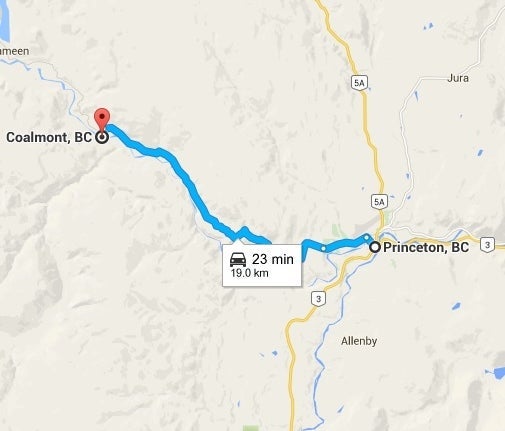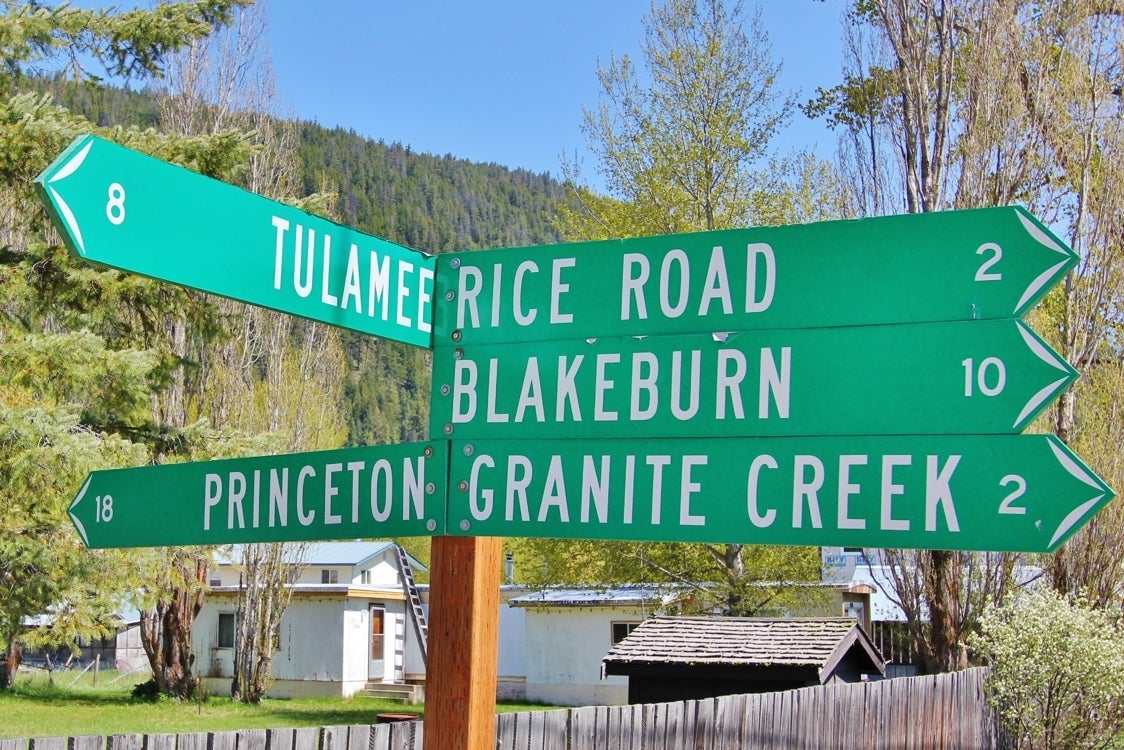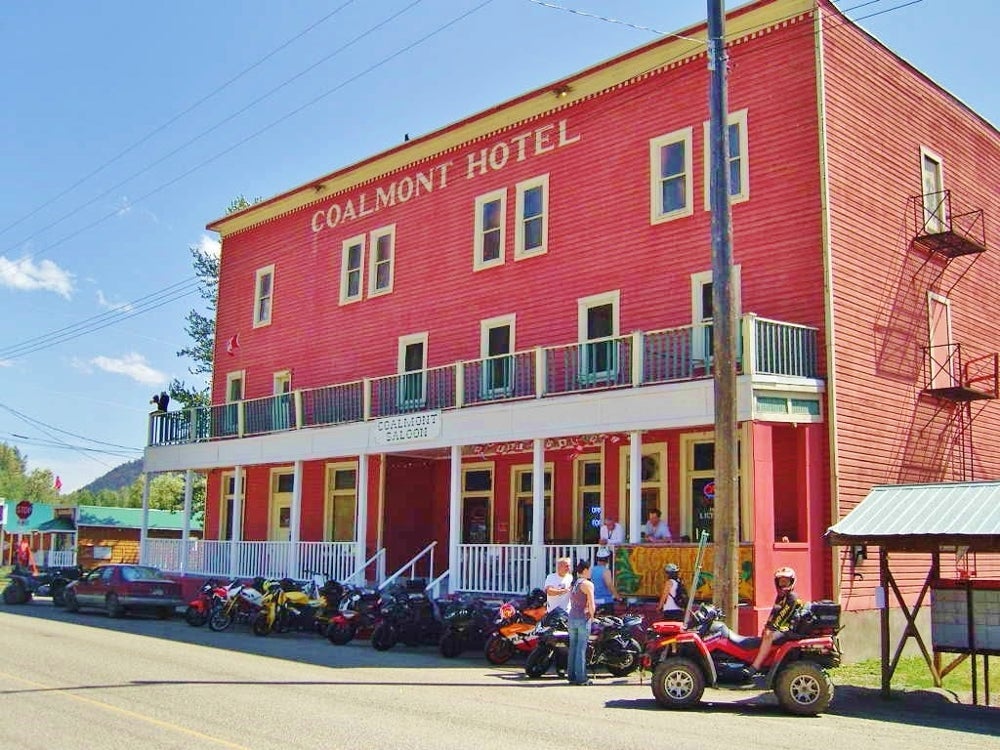 The Coalmont Hotel was built in 1912. There are no longer rooms available but the bar continues to be open daily. Walking inside is like walking into a time capsule and is a refreshing rest stop.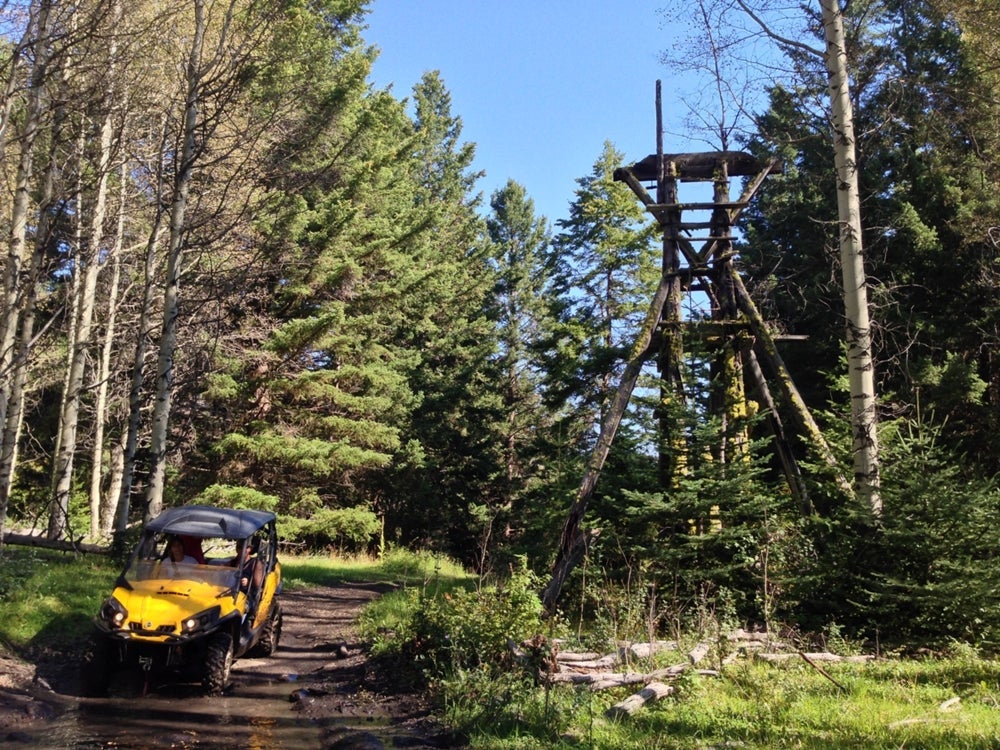 Coal was mined in the early 1900's out of Blakeburn. The coal was hauled down the mountain to Coalmont by a tram line. Today, an ATV trail follows these old cable lines now laying in the ground. Some of these supporting masts can still be found standing and tell a unique story about it's mining history.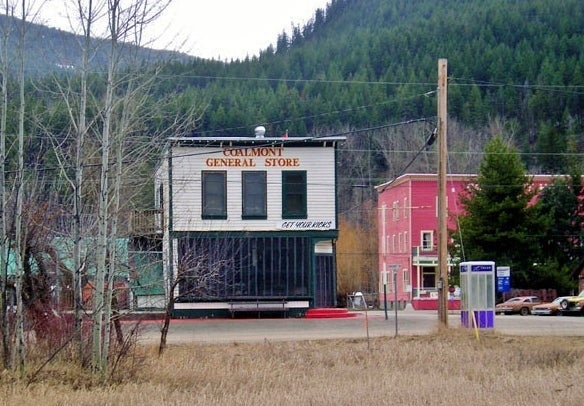 Old heritage style buildings like the General Store are not open for business but they offer a glimpse into Coalmont's wild west past.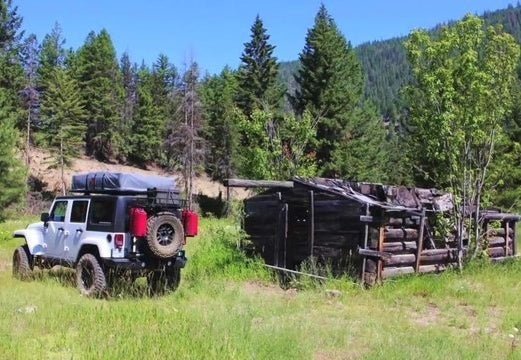 Some old ruins of houses can still be spotted at Granite City's townsite. What was once, one of the larger towns in B.C., the end of the gold rush left everyone packing, sending Granite City into a spiralling ghost town.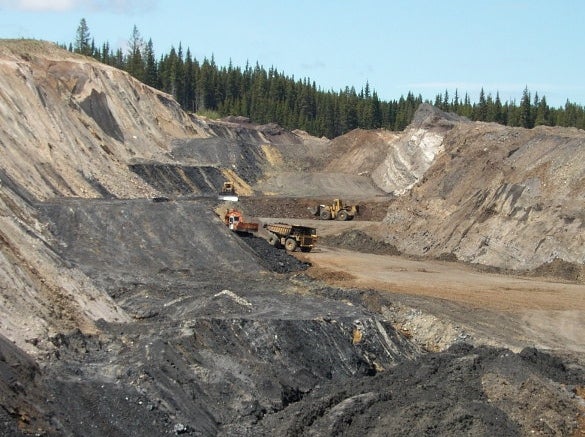 Small mining operations are still in business today prospecting for those elusive mineral deposits.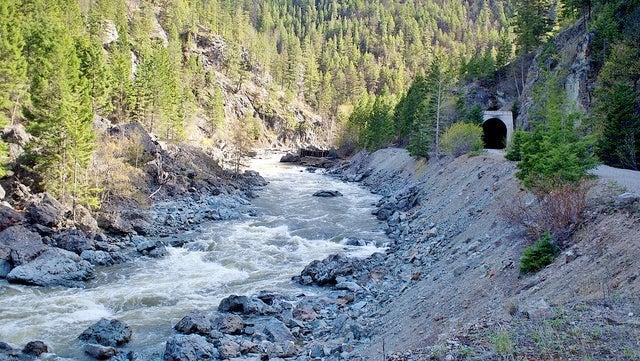 This scenic location is on the Trans Canada Trail about half way between Coalmont and Princeton. A gazebo provides this as a great rest stop to enjoy the scenery while the curved tunnel runs alongside Tulameen River. Don't forget to bring a flashlight as you will not see the light at the end of this tunnel.