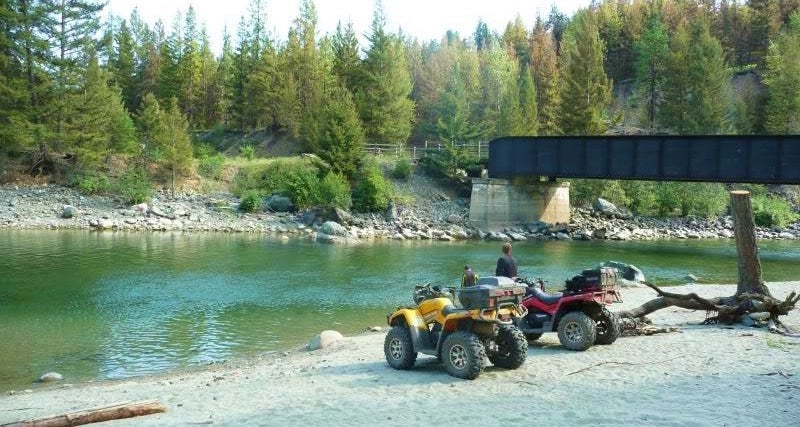 Outdoor recreational activities are one of the biggest attractions to the area. There is a vast network of ATV trails, forestry roads, hiking & hunting throughout the surrounding mountains. The crystal clear Tulameen River is perfect for kayaking, tubing, swimming or fishing and will help keep you cool during those hot, sunny days. Nearby historic townsites provide great literature to read up on, then head out and explore the sites to feel what life was like back then. Nearby rec sites are perfect for campers looking to set up a basecamp for their adventures.
White Sands Beach:
Located just south of Coalmont on the Trans Canada Trail, White Sands Beach is a beautiful spot on a hot summer's day. The Tulameen River slowly meanders underneath the trestle creating a perfect swimming hole with a white sandy beach to soak up the sun.
Granite Creek Rec Site
: The popular recreation site at Granite Creek supports a number of recreational activities on and along the Tulameen River. Popular activities include ATVing, hiking and mountain biking the nearby Kettle Valley Railway, Exploring Granite City & Blakeburn ruins and paddling in the Tulameen River.
Facilities

: 21 campsites, tables, toilets 


Location

: Located 18 kms northwest of Princeton on the Coalmont Road. From Bridge Street in Princeton cross the Brown Bridge, turn left onto the Tulameen Ave for 2.3 km which then becomes the Coalmont Road and continue on for 15.6 kilometres to the town of Coalmont. Turn left onto Main Street and proceed for 150 metres, turn right onto Bettes Avenue and proceed 260 metres, go across the bridge over the Tulameen River and turn left and continue to stay on the main road for 2 kms until you reach the Recreation Site.

Vuich Rec Site
: (34.4km) Forested three vehicle campsite with a nearby trail that views the cascading waters of Vuich Creek (33.9km).
Sutter Creek Rec Site
: (34.6 km) Serene three vehicle campsite perched on the high banks of Sutter Creek. Bright and open site nestled alongside a rushing mountain stream.
Jacobson Lake Rec Site
: (45.8km) Treed six vehicle site with horse corrals and additional vehicle parking for trail users. Trailhead for the "Treasures of the Tulameen" complete with information kiosk and map. Brochures will be available at this location. Lodestone Lake Recreation Site:
Hudson Bay Heritage Trail:
The original route used by the fur brigades from 1849-1860. The trail is used today as a popular but remote hike starting at the Jacobson Lake Rec Site and climbs into the alpine and past the pristine "Palmer Pond" at 1,805 meters. Venture further and stand on top of the Cascade Divide at 1,850 meters.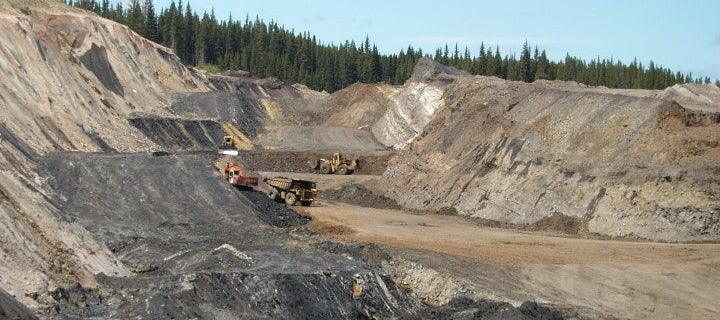 Mining was the mainstay for many years. The main finds of gold and platinum are long gone, but some claims continue to be worked and hand mining is still practiced by a few hardy souls. The major coal industry stopped in 1940 but there have been some sizable developments in the intervening years. Mining corporations have been trucking out coal as recently as 2013, where there's still a licence for many tons. The area has two ranches and there is a small amount of hay grown for local use only. There are free-range cows wandering the whole area and they can occasionally be seen in town. The pine tree stand has provided a large resource for logging for many years. There is regular traffic of logging trucks through Coalmont and get delivered to a large mill in Princeton. Logs also get delivered for processing in Merritt and elsewhere. Coalmont is located in the Cascades Forest District.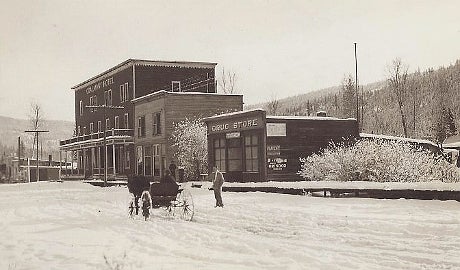 The area became well know in the late 19th century because of the gold and platinum finds. The plentiful coal soon became an interest and the town of Coalmont was established in 1911. The town thrived in the 1920's but the mine closed in 1940 and most people left. Despite having no public utilities and being on the verge of becoming a complete ghost town for many years, Coalmont continued to survive because of it's location and the tenacity of the unique individuals who chose to stay.