Camping is one of the most popular recreational activities in British Columbia, and campgrounds in the Similkameen Valley are as varied as the beautiful terrain in which they are located. The magnificent provincial parks are always a real camping highlight, but if you want to rough it, you can pitch tents in private campgrounds and in BC Recreation Campsites located on Crown land, There are seven Provincial Parks nestled along scenic lakes and rivers in the Similkameen offering drive-in camping and tenting experiences and plenty of stars overhead. Many of these parks make a great get-away that's within a three hours' drive from Vancouver. Read on below for detailed information on all these parks that offer camping to travelers in the region south of the Okanagan Valley.










Located 5 minutes East of town on Highway 3. The Princeton RV Park consists of 73 RV and tent sites located right beside the beautiful Similkameen River with easy access to the Highway 3 in either direction. The park is situated in a well balanced mixture of trees for shade sites and open areas for sites and other activities. All the sites are well serviced with 15 & 30 amp power and water plus a central facility for showers, flush toilets, ice and much more. The park is pet friendly as well. WIFI is available for those that need to stay in touch with their traveling colleagues or family at home.
















Manning Park is a unique year round destination in BC offering accommodations, retail & recreational services & facilities. Located in the heart of the Cascade Mountains the park features rain forests on its west side, grassland slopes on its east side, and between the two extremes lies a land of wild rivers, crystal lakes, towering peaks, and alpine meadows. The park is within a three hour drive from either the Lower Mainland (Vancouver) or the Okanagan. Bisected by Hwy. 3, Manning Park is one of the most popular four season destination areas in the province with driving access to the alpine. Hiking trails are its chief draw, but the park also offers horseback riding, swimming, canoeing, fishing, mountain biking, and, in winter, cross-country and downhill skiing. It is also the end point of the Pacific Crest Trail spanning from Mexico to BC. The park contains a large number of scenic, historic, floral and fauna attractions and provides a wide range of both summer and winter recreational opportunities. 
There are four main camping areas: Hampton Campground, Mule Deer Campground, Coldspring Campground and Lightning Lake Campground. The latter is especially popular during the summer months. The park's western entrance is 26 km east of Hope, its eastern entrance 48 km southwest of Princeton.
Winter features:
winter camping, snow shoeing, Nordic and Alpine skiing, skating and tubing.
Summer features:
camping, hiking, biking, horseback riding, bird and wildlife watching, fishing and canoeing.
Size:
70844 Hectares
Facilities:
355 vehicle accesible campsites at 4 campgrounds - Lightning Lakes (143 sites), Coldspring (64), Hampton (99), Mule Deer (49). Ten wilderness backcountry camping areas (55 sites) include Buckhorn, Frosty mountain, Grainger Creek, Kicking Horse, Mowich, Nicomen Lake, Pacific Crest, Poland Lake & Strike Lake wilderness campsites. Lodge and cabin resort (41 guest rooms 6 meeting rooms plus full amenities) and 25 Cabins. Day-use area, group sites, flush toilets, showers and sani-station. Day-use pay parking is in effect.
Location:
The western entrance is 26 km east of Hope and the eastern portal is 52 km west of Princeton on Highway 3.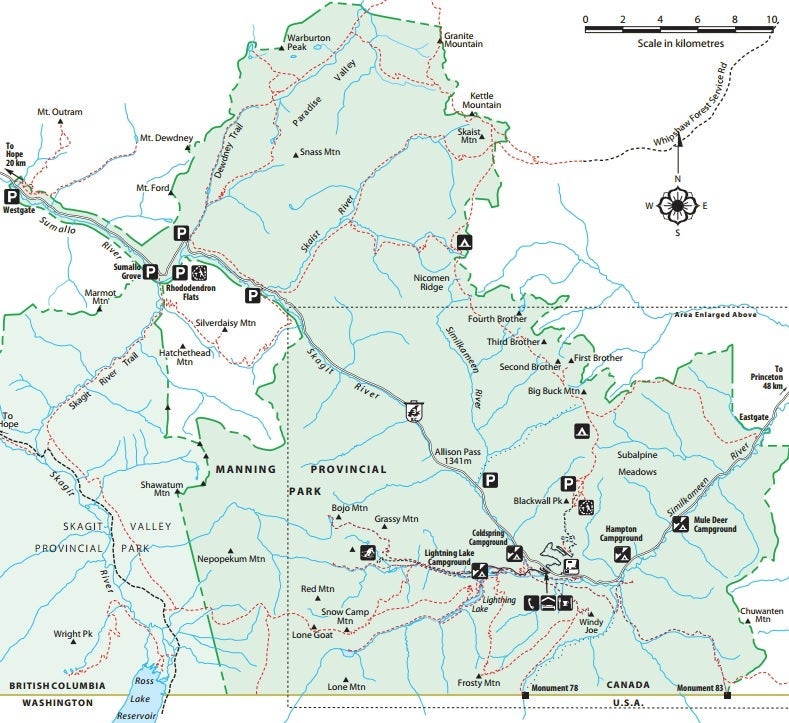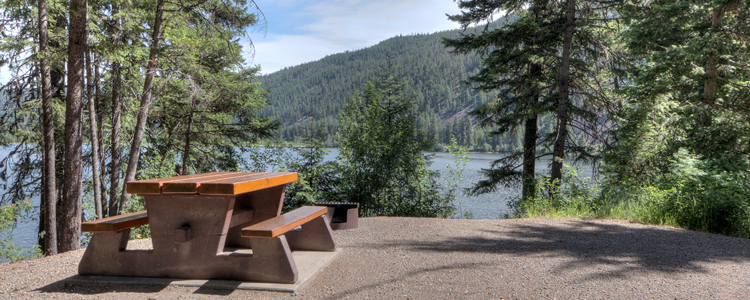 If you're looking for privacy in a natural setting, Otter Lake is ideal for old-fashioned camping. The popular park has two locations: a main picnic/day-use area in the village of Tulameen and a lakeside campground about 5 km further north along Coalmont Road. The Cascade Mountain Range surrounds the park and includes awesome canyons and clear flowing streams. Large numbers of otter, beaver and red squirrel inhabit the area, as well as, mountain goats, cougars and grizzly bears. Fishermen will find time spent on Otter Lake rewarding, with large lake trout being the catch of the day. The scenic lakeside campground is an ideal base for those who want to explore the mining history of the Tulameen & Coalmont area. Across the lake is the Trans Canada Trail.
Size: 51 Hectares

Facilities: 45 campsites, day-use area, boat launch, pit and flush toilets.

Location: 33 km north of Princeton on Coalmont Road towards Coalmont and Tulameen.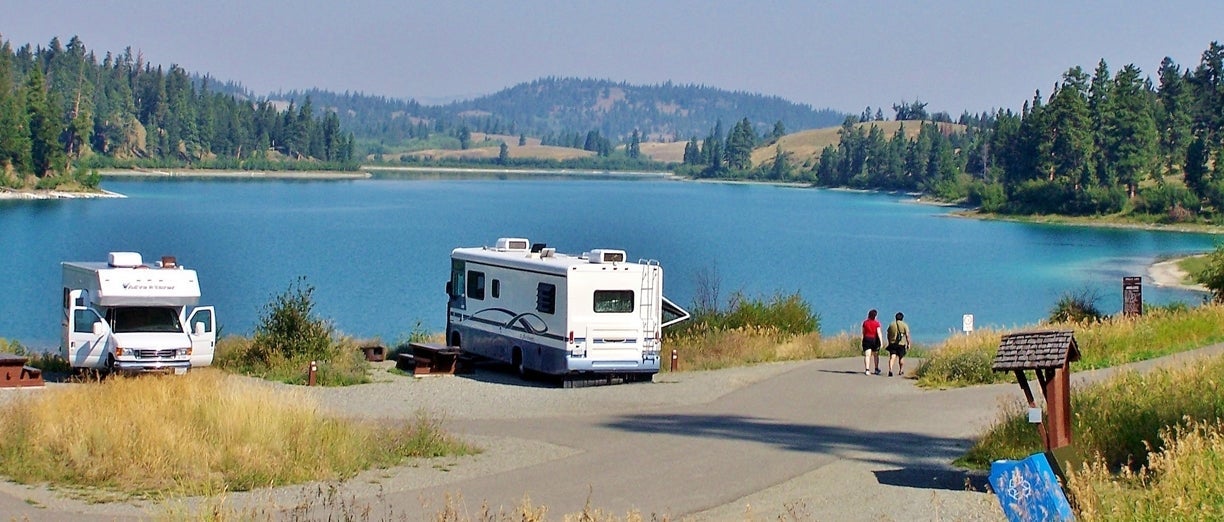 Wide open spaces, great fishing, wildlife, old west history and a quieter camping spot can all be yours in less than a 90 minute drive from the central Okanagan. Located in the heart of cattle country, the rolling grasslands and dry open forest surround the sparkling turquoise waters of Kentucky Lake and Alleyne Lake. The scenery is spectacular from early April to late October with springs' palette of soft pastels slowly changing to the vibrant golds of autumn.
Once known only by local fishers and their friends, the park is being discovered as a weekend destination from the coast and from the Okanagan. The Coquihalla and the Hwy 97C Connector have made the access easier to these beautiful fishing lakes. This is also an excellent spot for small mammals and large bird species.
Size: 144 Hectares

Facilities: 58 vehicle accessible campsites

Location: 38 km south of Merritt or 11 km south of Aspen Grove, just off Hwy 5A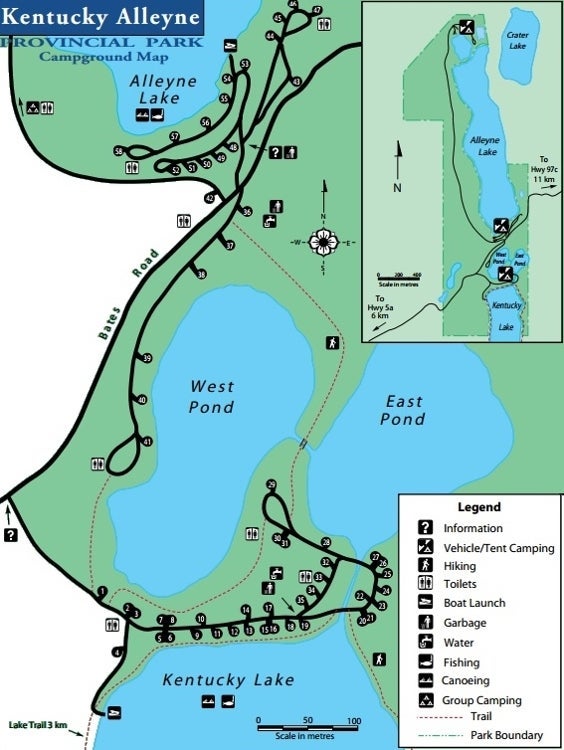 Off the beaten track, you'll find tree-bordered Allison Lake, a great spot for swimmers and those who love to fish. The park is known for its spectacular stands of aspen that burst into golden colours in the fall. This is a great overnight spot when travelling between Merritt and Princeton. It has a well-shaded grassy area with picnic tables, a water tap, and a small beach. Motorized boating is allowed with public boat access located at the South end of the lake.
Size: 23 Hectares

Facilities: 24 campsites and a day-use picnic area next to the lake on the South end.

Location: 28 km north of Princeton along Highway 5A.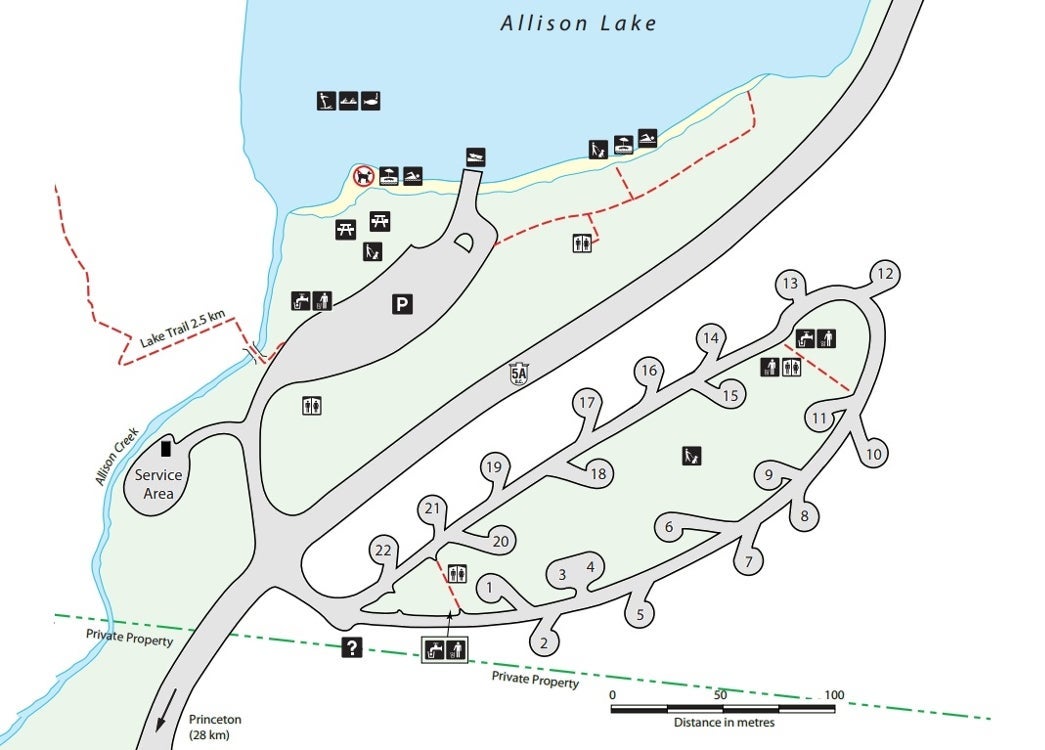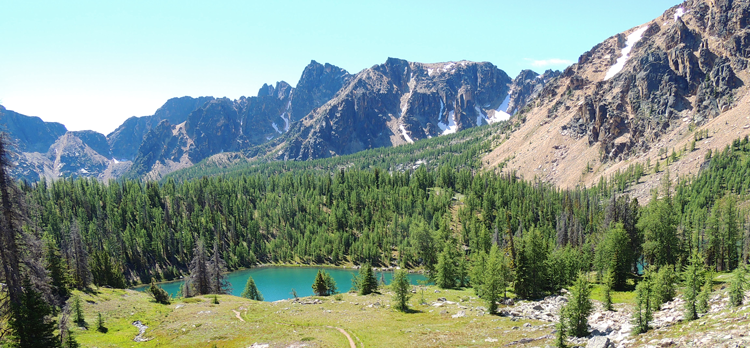 A true wilderness experience, Cathedral Park comprises an expanse of jagged mountain peaks, azure lakes and flower-dappled alpine meadows that is definitely for the adventurous. Located between the dense, wet forests of the Cascade Mountains and the desert-like Okanagan Valley, this mountainous park offers a rich variety of terrain, flora and fauna. Fascinating rock formations--including a jumble of columnar-jointed basalt forms and massive, wind-eroded quartz monzonite towers--make this an excellent spot for the experienced hiker. The lakes in the park look like turquoise jewels in a granite setting. Each of the close-knit group of lakes--Quiniscoe, Ladyslipper, Scout, Pyramid, Glacier, and Lake of the Woods--has a unique charm. Equally as beautiful are the tranquil Haystack Lakes, which are within a day's hike of the main lake areas. Cathedral Park offers fishing, camping, wilderness camping, hiking and mountaineering.

Cathedral Park is a very popular hiking area, but the season can be very short due to the high elevation and potential for snow. The season is generally the end of June to early October. No vehicles are allowed into the core area on the private access road. Cathedral Lakes Lodge provides jeep transportation service (fee for service) from the base area to the Lodge next to Quiniscoe Lake in the park's core area, 16 km away.

Size: 33,272 hectares for the Park and 353 hectares for the Protected Area.

Facilities: 3 backcountry campgrounds at Quiniscoe Lake (30 sites), Lake of the Woods (28 sites) and Pyramid Lake (12 sites).

Location: 3 km west of Keremeos off Highway 3. Take Ashnola Road from the highway and cross a red covered bridge. 10 km later the pavement ends and the Ashnola Forest Service Road, which leads into the park, begins. This road extends 48 km upstream to the south end of the Ashnola Valley.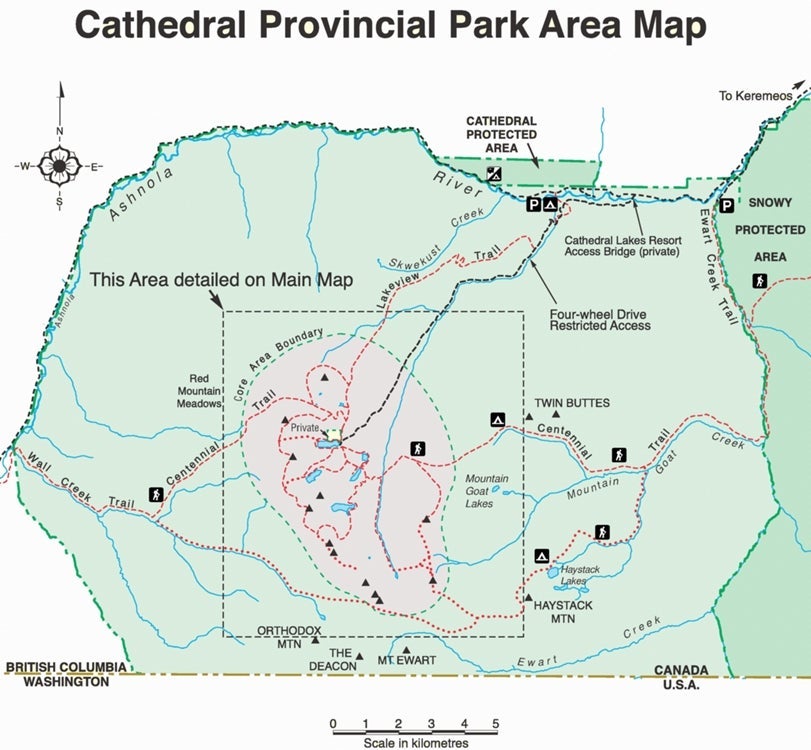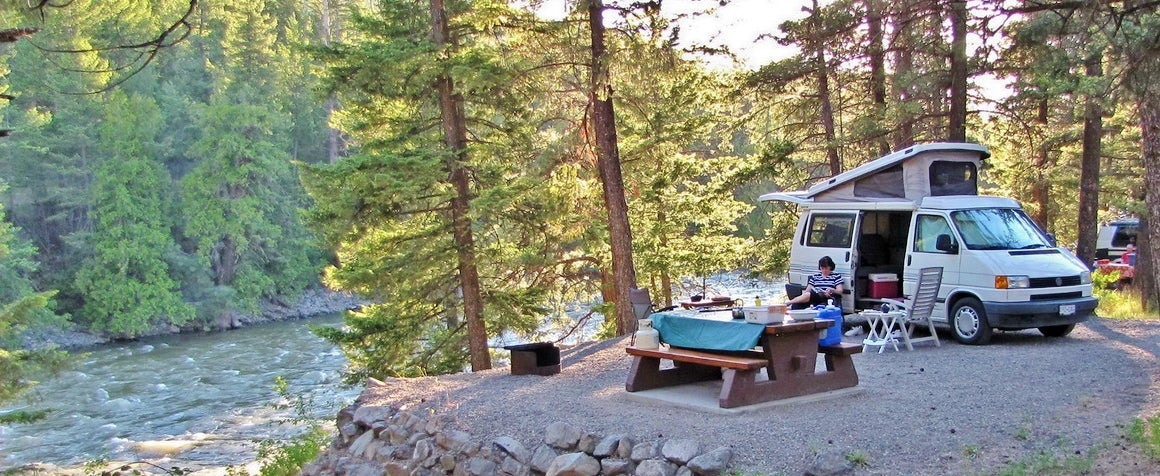 A small pine-dotted camping area beside the Similkameen River, this park is a popular choice for a relaxing picnic. Anglers may try their luck from the rock-covered shoreline. The park is located about 35 km east of Princeton on Hwy #3 near Hedley, BC.
Size: 4 Ha

Facilities: 26 campsites, hand water pump, pit toilets.

Location: 35 km east of Princeton on Highway 3.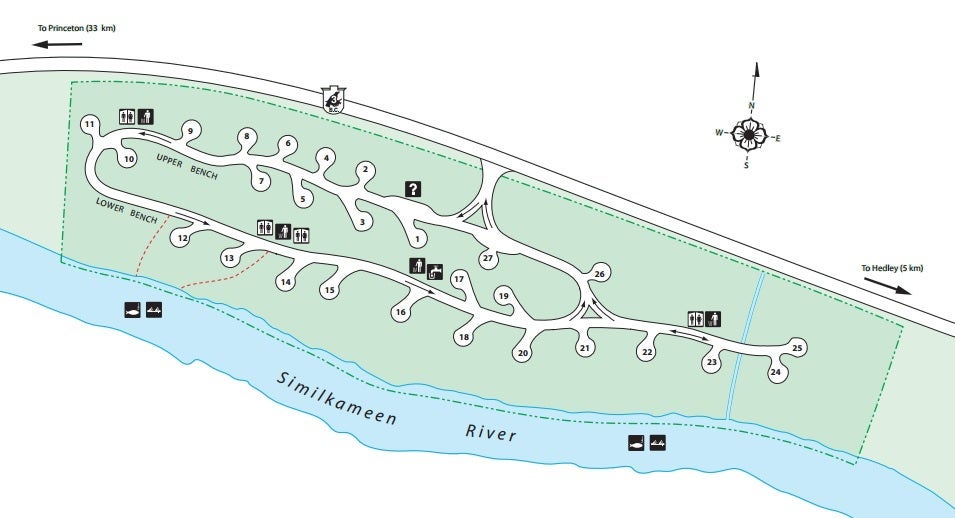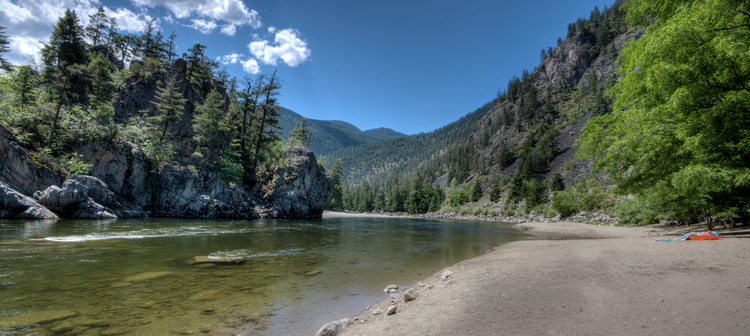 A popular rest stop at a rock bluff with an inviting sandy beach along the Similkameen River. Located 21 km east of Princeton on Hwy 3, the small park is a great spot where swimmers can enjoy a refreshing dip in the water. The campsites are located in a pleasantly-forested site with a view of a striking rock bluff along the river. Hiking in the area affords good views of the Similkameen Valley. Tubing and kayaking is also popular here giving a downstream route to Stemwinder Provincial Park.
Size: 149 Ha

Facilities: 17 campsites and day-use area. 

Location: 21 km east of Princeton on the Similkameen River right off Highway 3.