There are approximately 50 good trout fishing lakes within a 30 mile radius of Princeton. Most have cartop boat launches. Larger boats can be launched at Otter and Allison Lakes. For hunters, the game to be found in the Princeton area include white tailed deer, mule deer, elk, moose, ptarmigan and grouse. For further information contact the Otter Valley Fish and Game Club or the Princeton Fish and Game Club through the Chamber office.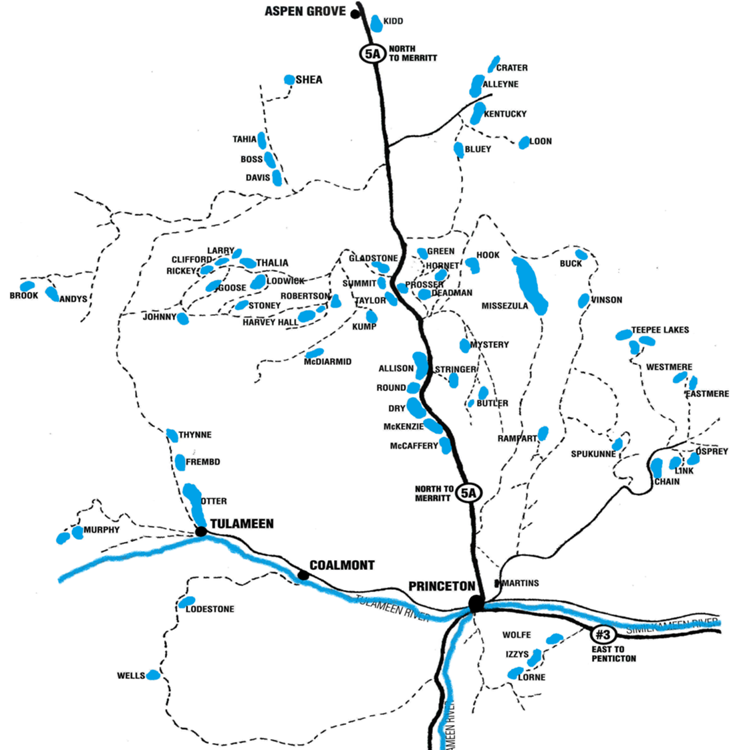 Havey-Hall, Hornet, Kump, Lodwick, Robertson and Stoney are just some of the high priority, quality lakes in the Pike Mountain area. This very scenic area with excellent camping gets heavy use, however, these lakes are managed well and provide fishermen with a great Rainbow fishery. A variety of fishing experiences with trout ranging from 1-6 lbs. and larger can be found in this Thalia Lake area. Most lakes have BCFS campsites with cartop boat launching.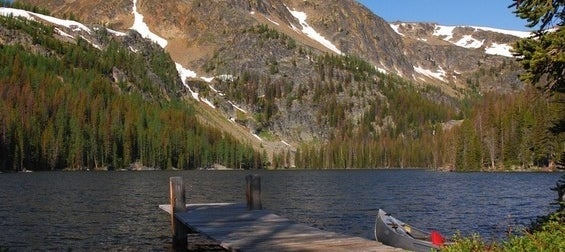 Fishing: The lakes in the park are not stocked by the provincial hatcheries, but they still support healthy populations of rainbow and cutthroat trout. This can be attributed to the abundance of spawning habitat in streams and along the lakeshores. In the fall, spawning trout can often been seen from small footbridges, as the trail crosses the outlets of Ladyslipper Lake, Pyramid Lake and Lake of the Woods. Ladyslipper is reputed to have the best fishing in the park. Though the fish are generally small (6-10 inches), they are plentiful. No special restrictions apply.

Hunting: Cathedral Provincial Park is open to the discharge of firearms from August 25 to April 15. The Core Area of the park is closed to the discharge of firearms. Hunters are permitted to carry unloaded firearms or bows only when in transit to an open area outside the Core Area during lawful hunting season. Please check the BC Hunting and Trapping Regulations for more information. Horses are only permitted from Ewart Creek to Twin Buttes and their use requires a letter of permission.

Wildlife Viewing: 
There are no viewing platforms, but the scenery in the park is spectacular wherever you go. Hiking along the rim offers 360 degree vistas of the Cascade Mountains and the Okanagan Mountain Range. The peaks of Manning Provincial Park can be seen in the distance on clear days. The trails up to the rim travel through mixed forests of beautiful larch that turn golden in the fall. Stone City, the Giant Cleft and the Devil's Woodpile are fantastic rock formations that highlight the unique geology of the park.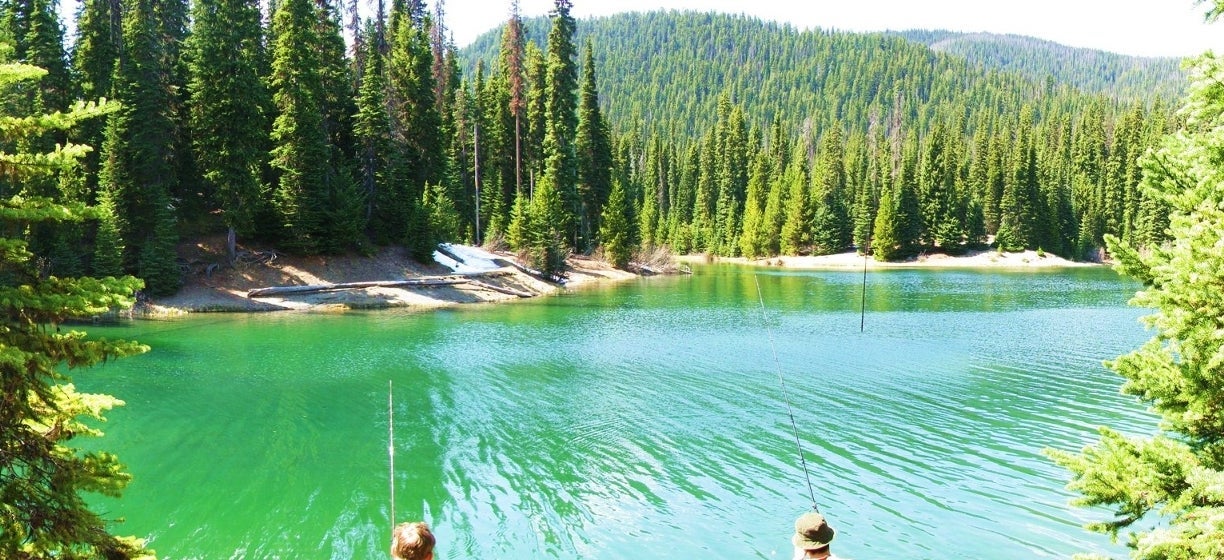 Fishing: 
For the hardy hiker, Poland Lake and Nicomen Lake offer good fishing for rainbow trout. Lightning Lake also offers fishing opportunities for small rainbow trout. No motorized boats are allowed, including electric motors.
Wildlife Viewing: 
There are excellent opportunities to view a variety of wildlife in Manning Park. The animal life includes squirrels, chipmunks, marmots, pika, coyotes, beaver, muskrat, deer, bear, moose and most members of the cat family. More than 200 bird species have been spotted here. Some good locations include: Beaver Pond, Rein Orchid, Lightning Lake's day-use area, and the Similkameen Trail.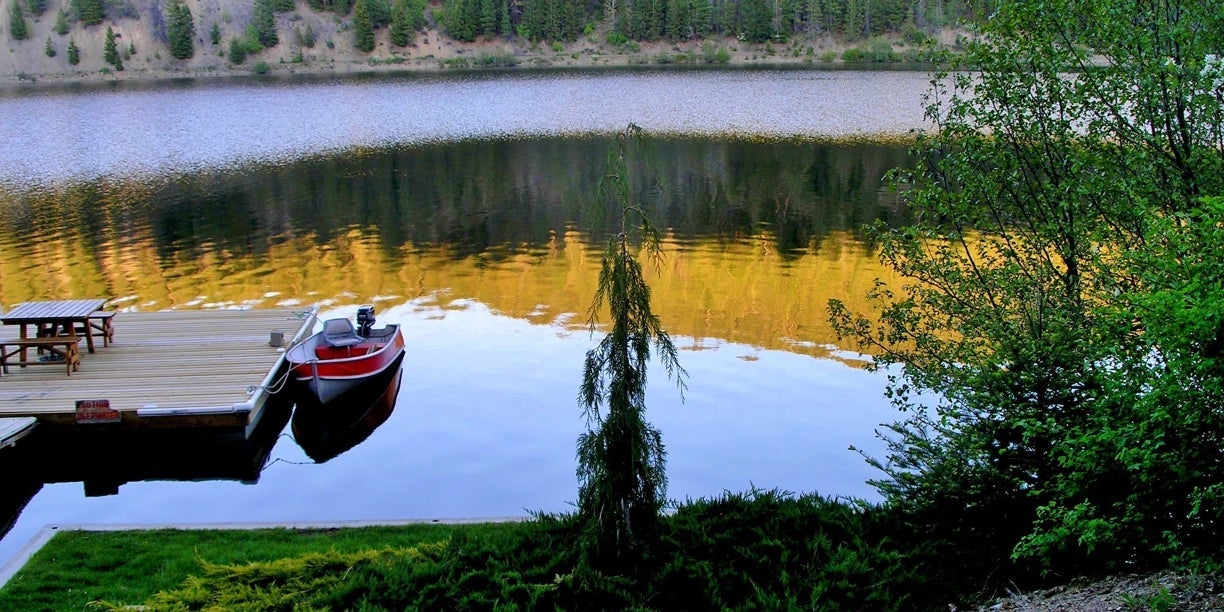 Fishing: 
Otter Lake is stocked by the Summerland Trout Hatchery with rainbow trout fry, resulting in excellent sport fishing opportunities. Ice fishing is possible on Otter Lake.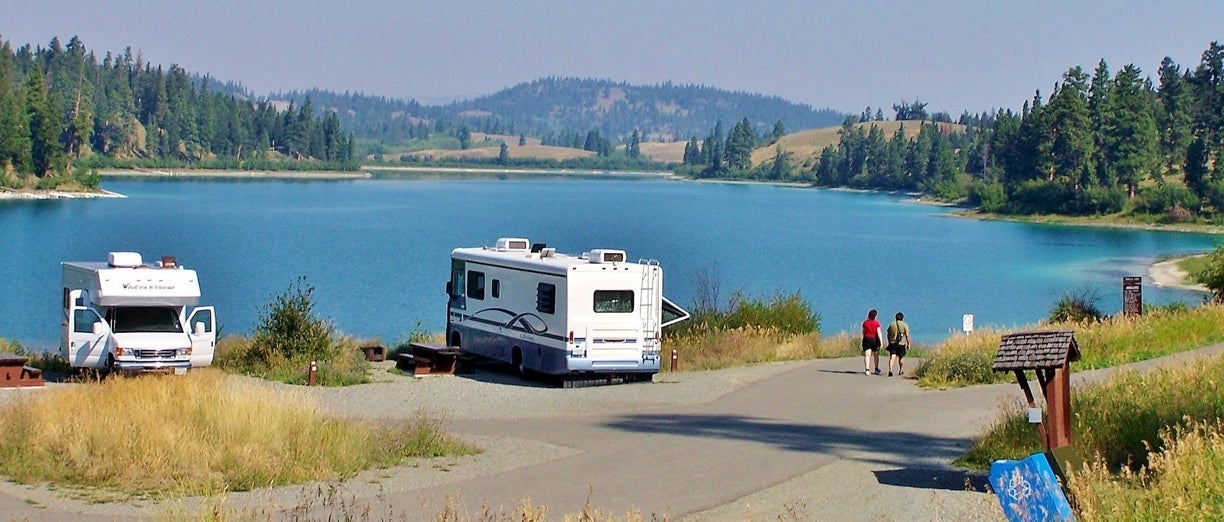 Fishing: 
This area is very popular for fishing and even features a "children only" fishery to foster interest in the sport among youth. The ponds between Kentucky Lake and Alleyne Lake are open only to those under the age of 16. The lakes and ponds are stocked with rainbow trout from the Summerland Trout Hatchery. Depending on temperatures, there are ice fishing opportunities in the park. Access may be difficult depending on road conditions. Anyone fishing or angling in British Columbia must have an appropriate licence.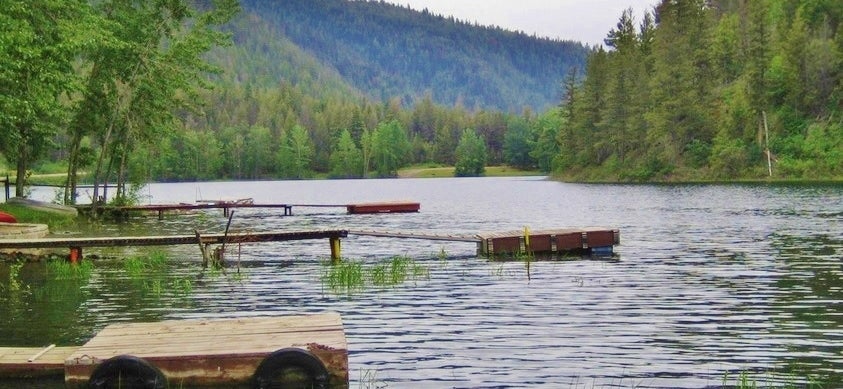 Fishing: 
Allison Lake is stocked with 15,000 Blackwater rainbow trout raised at the Summerland Trout Hatchery. There are no special restrictions on the lake. Anyone fishing or angling in British Columbia must have an appropriate licence.



Fishing:
Three Lakes include Osprey, Link & Chain Lakes. All provide great fishing and feature water front recreational camp sites.
Swan Lake Bird Sanctuary is a 57 hectare / 141 acre reserve located just 6km/4mi from downtown Princeton. Sit quietly in one of two blinds and watch for resident and migratory birds. The wetlands, dry grasslands and tall ponderosa pines surrounding this small glacial kettle lake attract a wide variety of species. Interpretive signage along the trails describe the native and invasive vegetation of the area.