Welcome to my Princeton B.C. Real Estate market update, where I provide you with the latest updates on the local housing market. In this mid-year review, we'll delve into the year-to-date statistics for Princeton, showcasing key insights and trends. Whether you're a prospective buyer, seller, or simply interested in the local real estate scene, this post will give you a comprehensive overview of the current market conditions.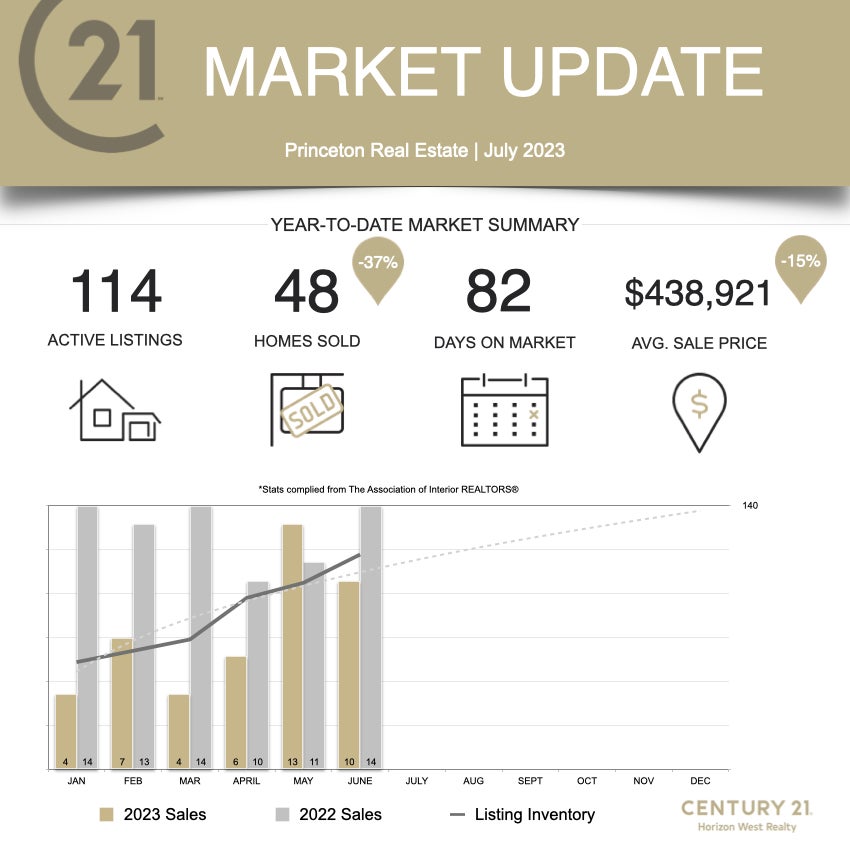 Properties Sold: A 37% Decline
One of the notable trends observed in the Princeton B.C. real estate market this year is a decline in the number of properties sold. Compared to the same period last year, the market has experienced a 37% decrease in the number of properties changing hands. Although Princeton saw a surge in home sales for May and June, the market will likely lose steam in the second half of the year. This decline is attributed to various factors, such as changing economic conditions, mortgage rate fluctuations, and shifts in buyer preferences and affordability factors.
Average Days on Market: 82 Days
Another important metric to consider is the average number of days a property spends on the market before being sold. In Princeton B.C., the average days on market currently stand at 82 days, indicating a moderate increase compared to the previous year. This statistic emphasizes the importance of proper pricing and marketing strategies for sellers in order to attract potential buyers in a timely manner.
Average Sale Price: A 15% Decrease
In terms of pricing, the average sale price of properties in Princeton B.C. has seen a decline of 15% since the beginning of the year. As economic and market challenges persist, we may see the downward trend in real estate values continue toward the end of the year. The depth of this trend will depend on how inventory levels  stack up in the market. This presents a more favorable market for buyers, offering potential opportunities for those looking to invest in the area. However, it's crucial to note that these figures represent the average, and prices can vary significantly based on property type, location, and condition.
Increasing Listing Inventory
Accompanying the changes in sales volume and average sale price is an increase in the listing inventory. The market has witnessed a slow rise in the number of available properties for sale, providing buyers with a wider range of options to choose from. Although still at historic lows, growing inventory might create a more competitive environment among sellers, as they strive to differentiate their properties and attract potential buyers.
Conclusion:
As we reach the mid-year point, the Princeton B.C. real estate market has experienced a decline in properties sold and average sale price, coupled with an increase in average days on market and growing listing inventory. These trends indicate a market that favors buyers, presenting an opportune time to explore the local real estate scene. This trend will depend on how the market handles higher interest rates, the strength of the economy and levels of inventory growth. 
If you're considering buying or selling property in Princeton B.C., it's crucial to work with a knowledgeable local real estate agent who can provide personalized guidance based on the specific market conditions. I can help you navigate the current landscape, analyze individual property values, and assist with negotiating the best possible deals.
Stay tuned to my blog for more updates on the Princeton B.C. real estate market. Whether you're a resident, investor, or simply interested in the local market, my goal is to provide you with valuable insights to support your real estate endeavours.