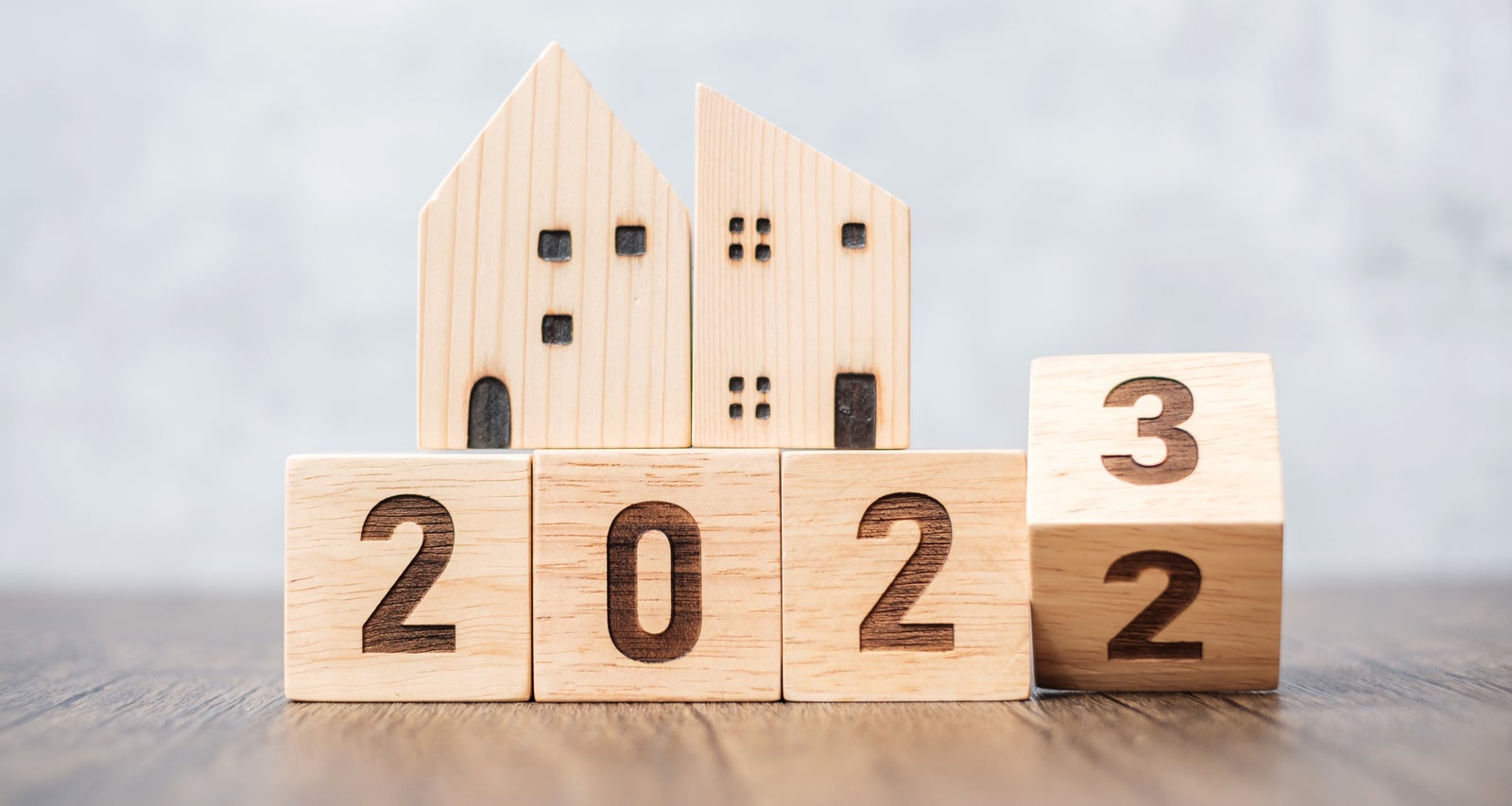 Another year has come and gone and what a year it has been! As I reflect on all of our many accomplishments, I can't help but feel very proud and excited about the future of Century 21 Horizon West Realty. 
I would some up 2022 as the year of TRANSITION... 
This began early in the year with the conversion of our regulatory framework into the BC Financial Services Authority. This transition provides the provincial government greater control of the real estate industry, starting with the implementation of the Home Buyer Rescission Period (HBRP) just launching now. 
Many companies were forced to pivot and evolve their business strategies to stay relevant as the markets and economy transitioned from its relentless pace and growth, to rising inflation and interest rates causing markets to stall across the nation. 
Although this year had its challenges, there have also been many highlights for us. The success of our company is built on the efforts of our real estate agents, staff and public support and in this past year, we have achieved many exciting milestones.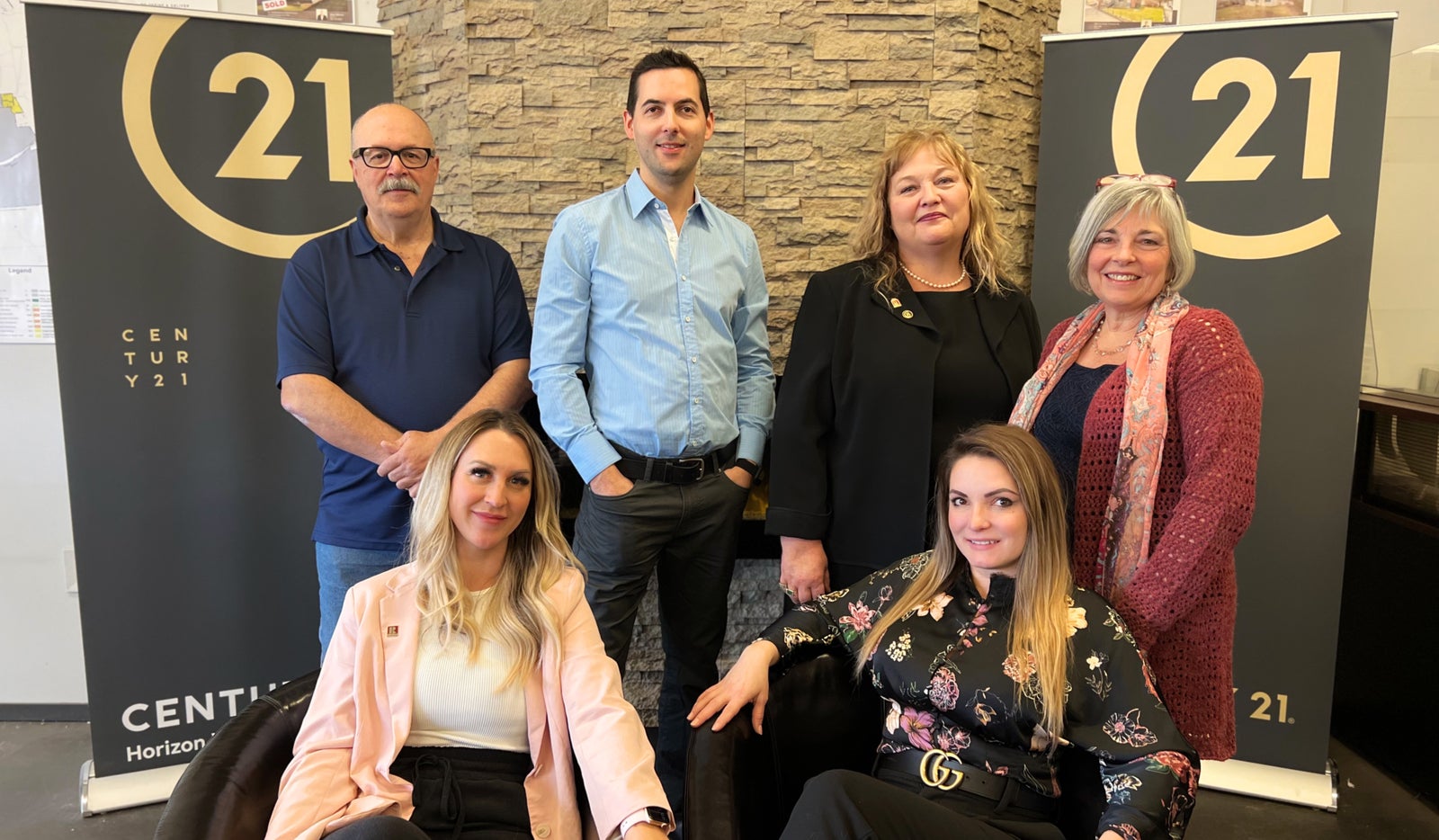 I have personally reached my 15 year milestone working in the real estate industry, and 2023 will be the 10 year milestone for which Century 21 Horizon West Realty Ltd. has been serving the public. Our brokerage grew from the hopeful business that I founded almost a decade ago to the robust company that is thriving today, with a diverse set of real estate agents and supporting staff that spans over two offices in the communities of Princeton and Keremeos, and it's been a joy to experience!


2022 Stats Review
With the end of historically low interest rates and record sales, 2022 will close the year as the peak drastically tapered off with sales 40% lower than the previous year but values still 10% higher:
Princeton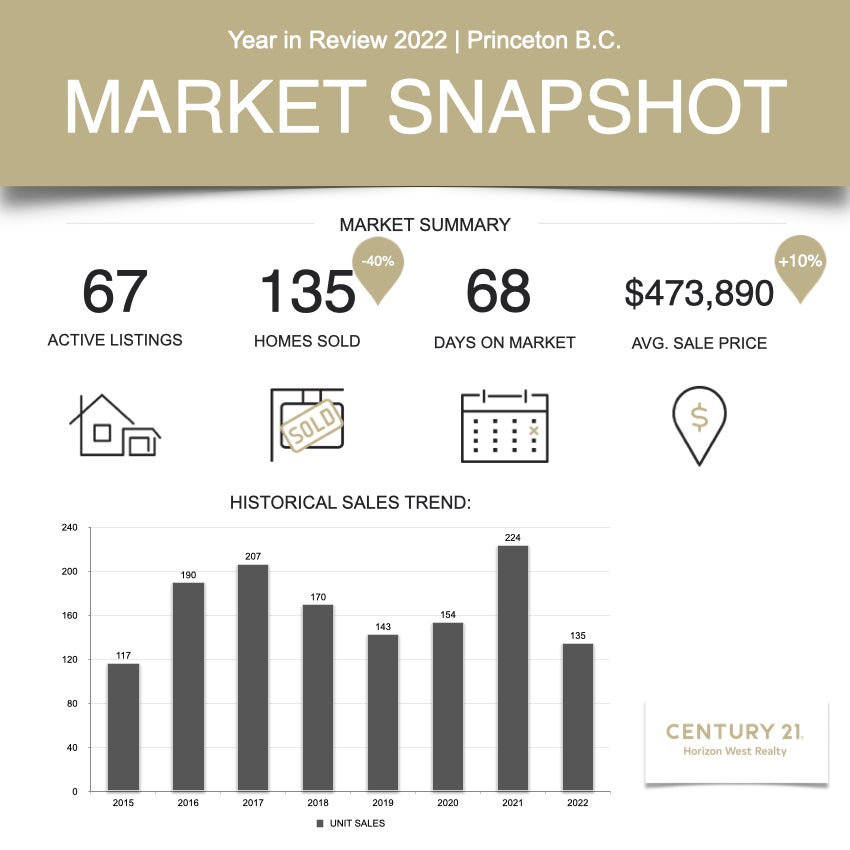 Keremeos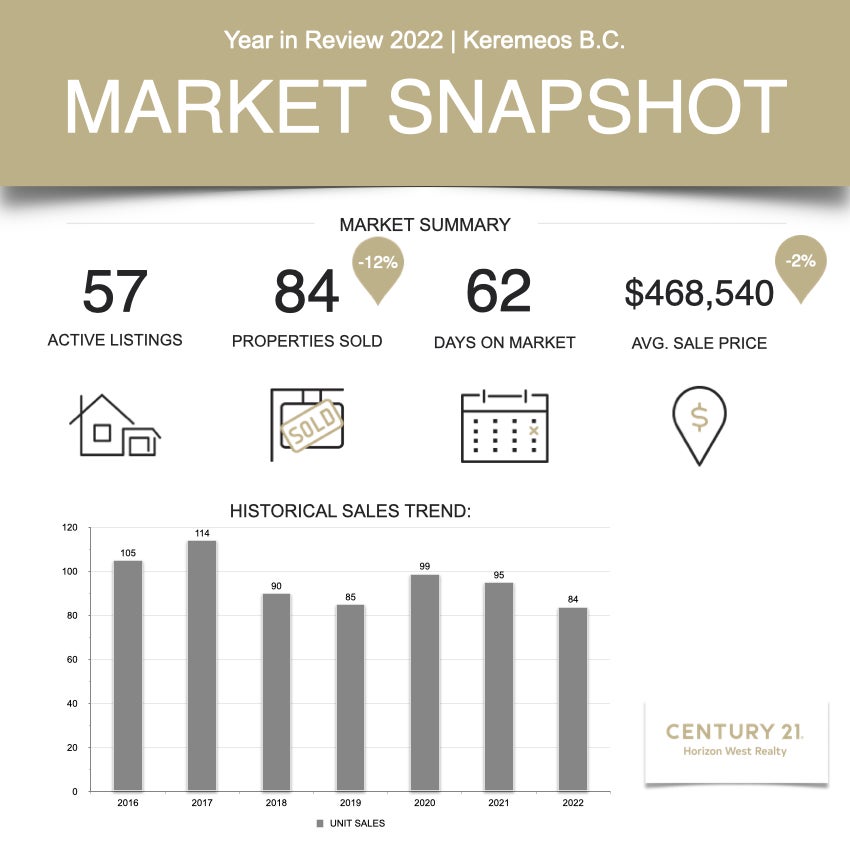 2023 Outlook
2022 will be the final year of historically low interest rates and cheap debt. With higher interest rates staying for most of the year and government regulatory changes designed to slow the market, values will in evidently fall 5-10% compared to 2022. Housing supply will continue to be a challenge in 2023 and unfortunately, will continue to put upward pressure on rental rates. Below is a good video from the Financial Post that summarizes 2023 well for most markets across Canada:

For any specific questions regarding the market in 2023 and for selling or buying real estate in the Similkameen Valley, don't hesitate to reach out our Century 21 Horizon West Realty team. With almost 1,000 sales completed to date and over $267,594,000.00 in sales volume, Century 21 Horizon West Realty has truly become the industry leader in buying, selling and managing real estate portfolios in the Similkameen Valley. C21 truly values our partnerships with our many loyal clients, and thank you all for your continued support. We are looking forward to working with you in 2023. 
All the best to a successful and healthy New Year!

Lee Mowry &
The C21 Team