2021 has proven to be a year of insanity and fatigue that will go down as one of the most challenging years in modern history. From an ongoing and relentless pandemic, to an unbearable heat wave, massive forest fires and torrential flooding…
L
iving through such a tumultuous time has caused a great deal of stress where many of us will be embracing the new year ahead.
Community Strength
Realizing that things are still uncertain can cause anxiety on our families, and although these disasters have put up a dark cloud on the well-being of many, the strength and perseverance of the community shines through. I have witnessed many people volunteer countless hours of their time to help those in dire need... From digging a stranger's home out of the mud and salvage their belongings to donating water, clothes & furniture, I am amazed by the big hearts and helping hands. They are a big part of creating a positive future for family, friends and neighbours and it makes us proud to be a part of this supportive community.
"There Is No Place Like Home"
The safety and comfort of our home is still a place where we can escape the turmoil of everyday life. Smaller communities like Princeton and Keremeos are becoming the trend for buyers looking for an affordable, outdoor lifestyle with more space. That's why COVID-19 is still a driving factor for the heightened demand among homebuyers in the last year. As many people continue to reevaluate their lifestyle and look for a home that better fits their needs, it's helped make 2021 almost match the record pace from the 2005-2007 market run. But the intense competition between buyers has proven challenging at times. If it wasn't for the shortage of inventory, I feel property sales here would have surpassed the previous record run.
By The Numbers
Princeton
Stronger buyer demand during 2021 continued to put a strain on the seriously limited supply of housing. This has helped create higher property values and increased rental rates in the area. Overall Princeton property sales were up 46% compared to the previous year, and a housing supply shortage has pushed the average property value up by another 18%.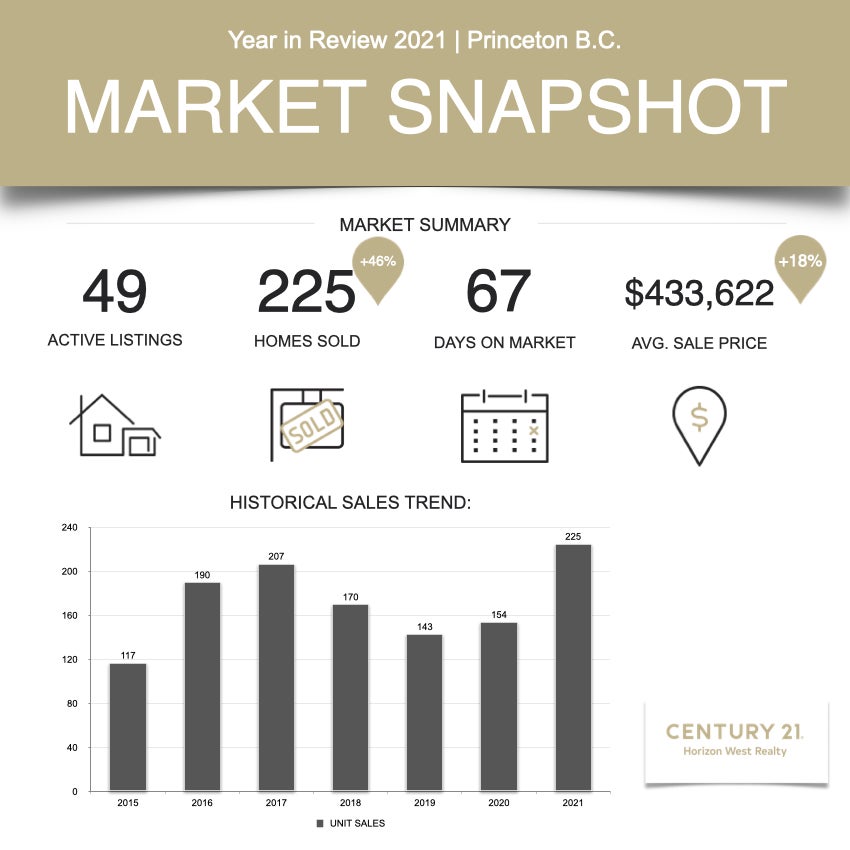 Keremeos
It's a similar story in the small real estate market of Keremeos where high demand paired with an already short housing supply has resulted in increased property values. The lack of inventory impacted overall unit sales for the area, (down by -4%) substantially pushing the average property value up by 31% for the year.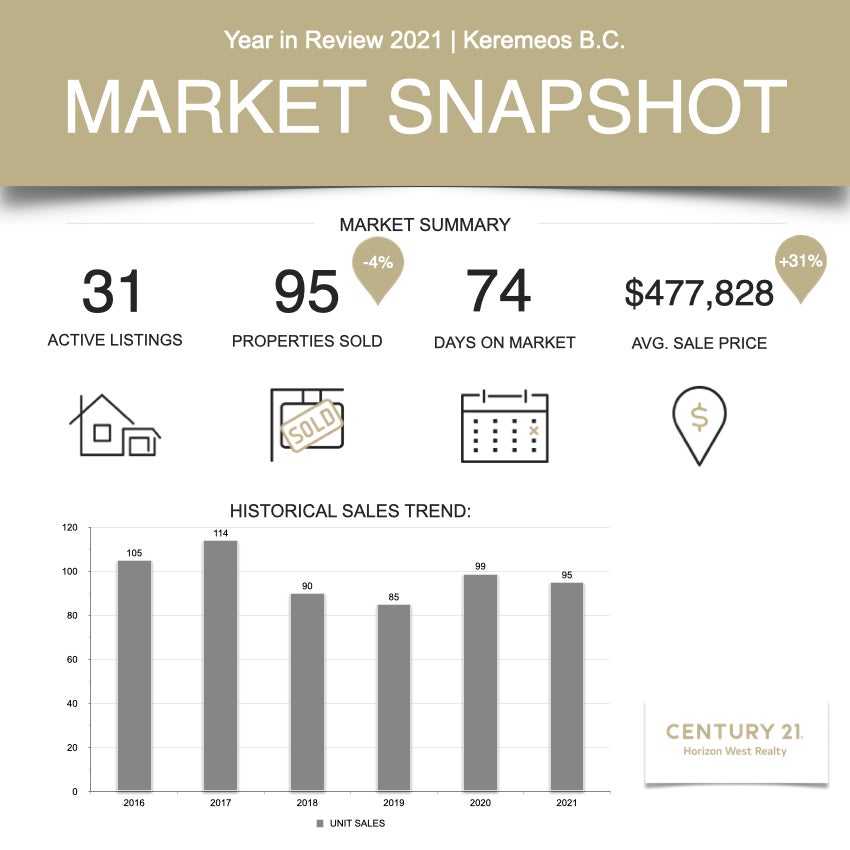 2022 Market Outlook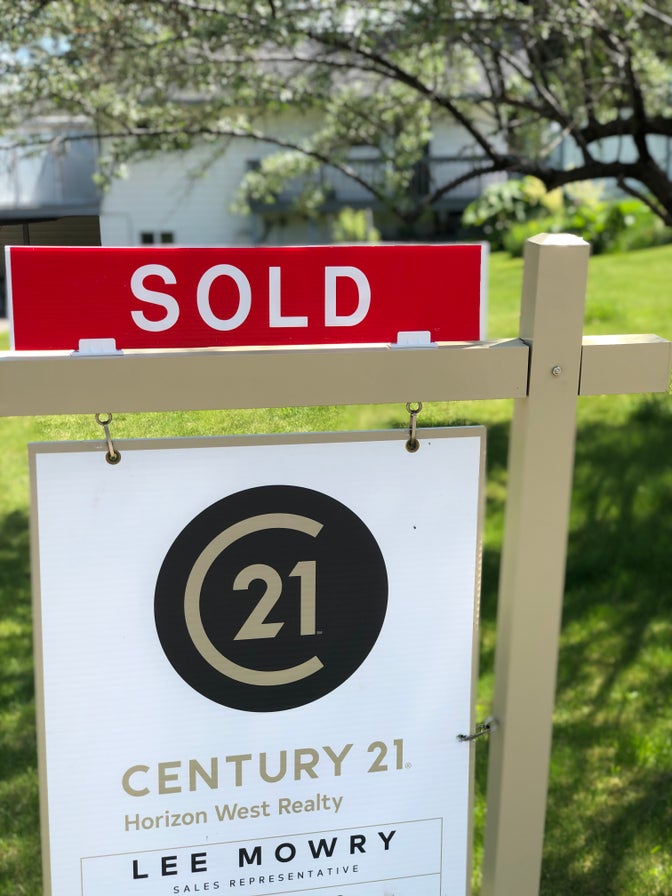 While price growth is not expected to be as extreme in 2022, an unprecedented supply crunch will continue to be the #1 issue moving forward into the new year. Steady buyer demand from the lower mainland and other larger centres will continue as people move around in response to the emergence of the COVID-19 pandemic and its impact on our lives. A strong local economy creating good paying jobs and ultra low interest rates in the short term will also contribute to buyer demand in the area. New development could shape the real estate market for the new year. As demand for housing in all sectors of the market continues, supply will be crucial to mitigating rising values, rental rates and maintaining the quality of life in our community.
There will be some negative influences in the coming year as well, including many that are still concerned about a market bubble across the province with prices rising so quickly. Interest rates are a primary concern for the federal government. While the Bank of Canada has set the stage for raising the interest rates to begin as early as April to help curb inflation, mortgage rates have already started to move higher, first this past spring, and again in the last few months. An additional wildcard is from the Provincial government, as they consider creative policy changes that will directly impact how we buy & sell real estate and to curb intense competition frustrating so many buyers. Overall the market will continue to be strong as housing supply continues to be an issue. No matter how it plays out, 2022 is going to be an interesting year with many changes.
Helping You Make The Smart Move!
Century 21 Horizon West is proud to have had the pleasure of assisting 240+ families with buying and selling homes in 2021. We're grateful to have added a ton of new, amazing clients to our C21 family by offering our experience, knowledge and professionalism so you can make smarter, informed decisions for smarter, sound investments in real estate. We were able to smash all of our goals for the year and looking forward to carrying this momentum over into 2022.
Century 21 is an integral part of the community that has the longest running real estate franchise in Princeton. Our reputation and community heritage will give you the confidence that we'll be by your side throughout the entire buying and selling process. With the current seller's market and potential for rising interest rates next year, we're anticipating a very strong start to the year and will continue our vision to offer our honesty, integrity & hard work throughout the community.
Our team thanks you for the continued support this year and wishes the community a safe and prosperous new year!