To say that 2020 has been a unique and challenging year, couldn't be any more understated. As the pandemic threatened every aspect in our lives, our Century 21 agents in Princeton and Keremeos proudly stepped up to provide exceptional service while keeping our families and clients as safe as possible.
The tumultuous year brought anxiety as working from home became a common reality but didn't come without it's own challenges as we shared a workspace with family members. We learned to practice safe social distancing protocols with our clients even when it sometimes put us in awkward moments, but we were eager to learn and adopt these measures so we could continue to provide our vital service to those that needed it.
By The Numbers
Princeton
Short housing supply paired with strong buyer demand continued to lift property values and put a strain on available rental housing throughout the year. Overall Princeton property sales were up 8% compared to the previous year, but a limited housing supply help push the average property value by an amazing 37%.
Keremeos
It was a similar story for Keremeos where overall property sales were up 16% compared to the year before, while values rose by 29%.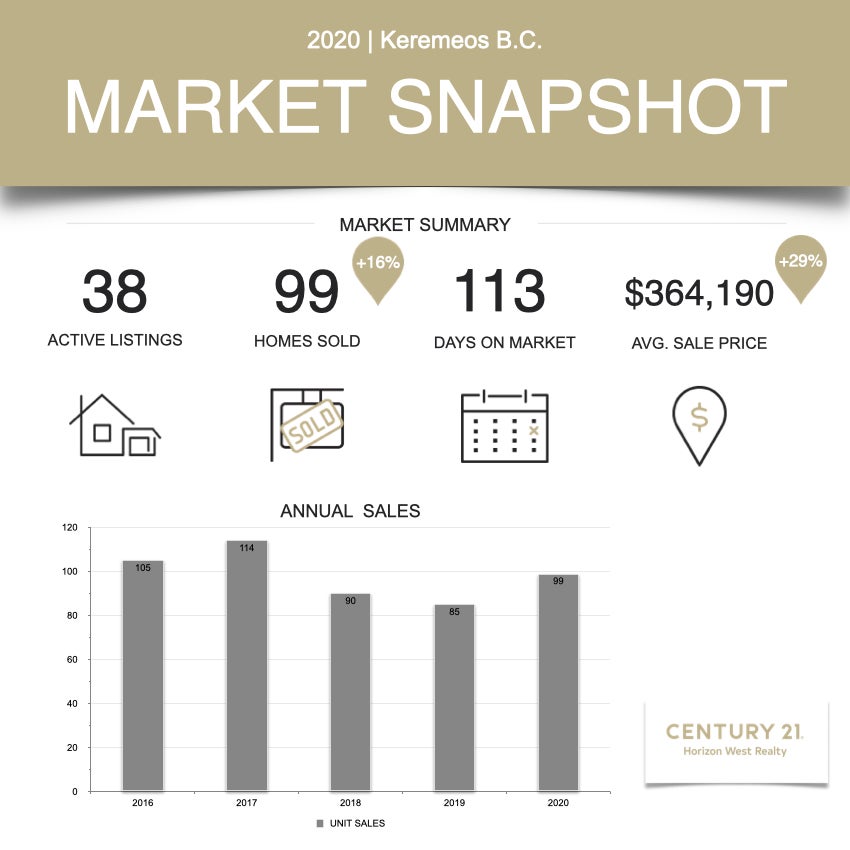 The graph below outlines Princeton's historical real estate market trend since 2013. The orange line indicates the average sale price and the grey bars illustrate how many properties sold in each year: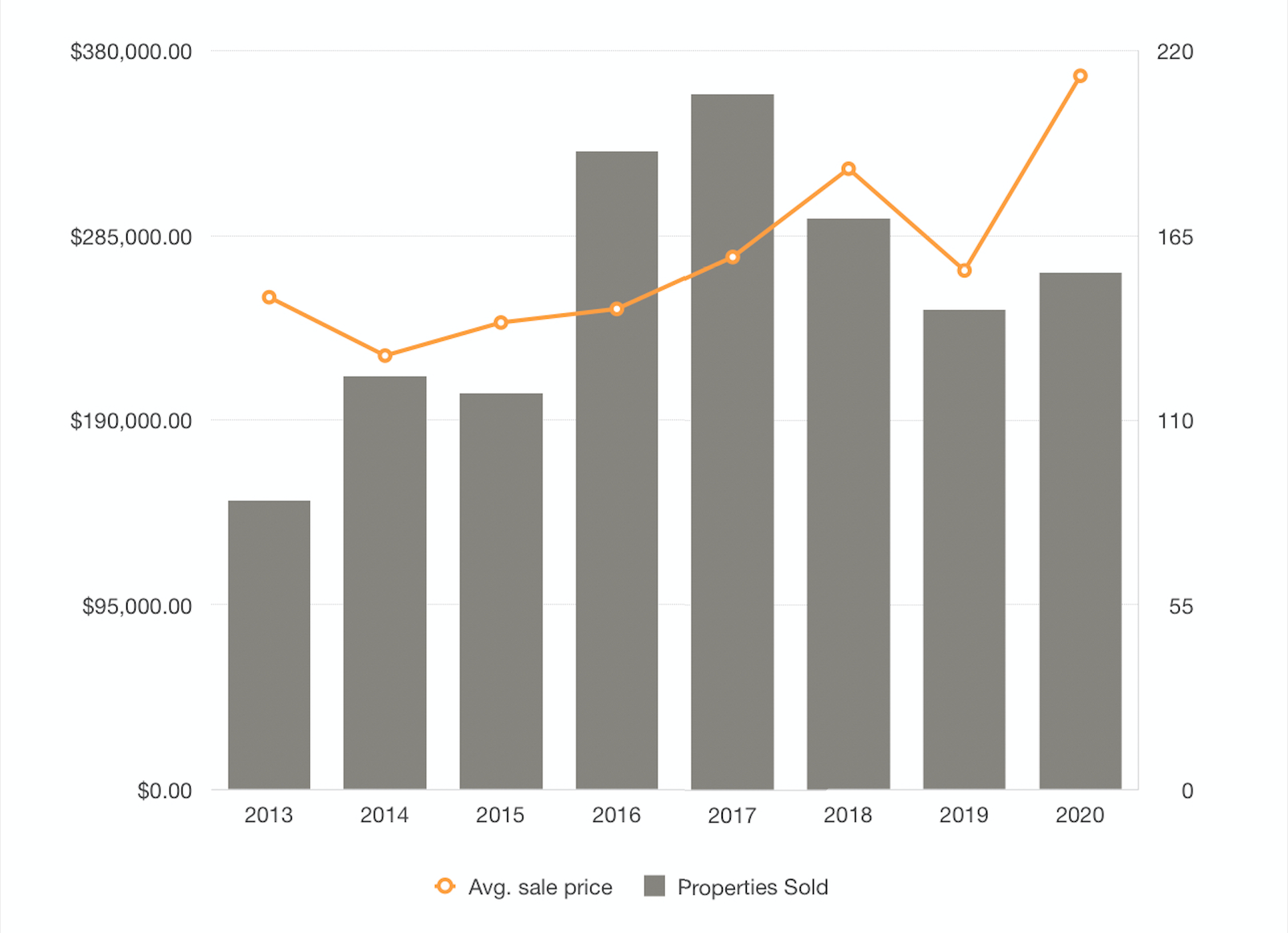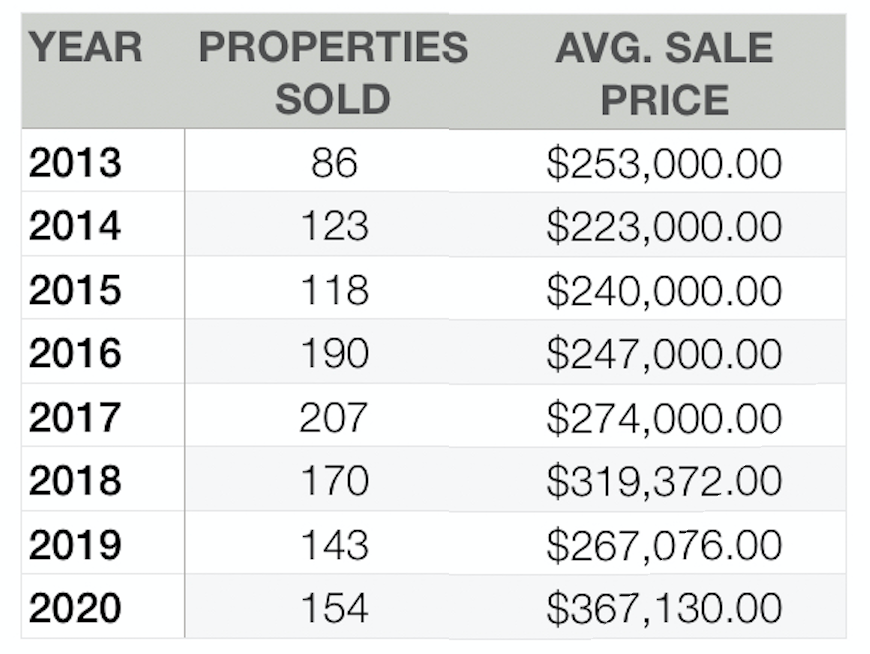 As we turn our backs to 2020 and move forward into a new year, It is Century 21 Horizon West's goal to continue working diligently and evolve its business strategy and continuity plans to remain viable to its clients in the new year.
2021 holds the promise of hope, good health and a better quality of life. Looking back on this now, we realize this has always been the Princeton and Keremeos lifestyle: offering more space, fresh air & and an easy going lifestyle.
What Does The Future Hold?

Real estate in Princeton and Keremeos looks strong moving into 2021. Helped by steady demand from the lower mainland, ultra low interest rates and limited supply, we anticipate a healthy housing price increase in the region.

While most signs indicate positive growth in the real estate industry over the next few months, particularly as vaccines get approved and interest rates continue to remain low, we need to remain cautious and vigilant as things can change very quickly. But this gives us hope that the Covid-19 pandemic will soon abate, and we will be able to return to more normal social patterns including in-person meetings and events. In the meantime, we need to continue to help a neighbour or friend in need and to stay in touch with our loved ones.

We want to take this opportunity to express a heartfelt thank you for those that supported us and wish everyone this year a more healthy, happy, and prosperous 2021 for all of us. Century 21 Horizon West will continue its vision to offer professionalism, honesty and hard work throughout our community.

Happy New Year.