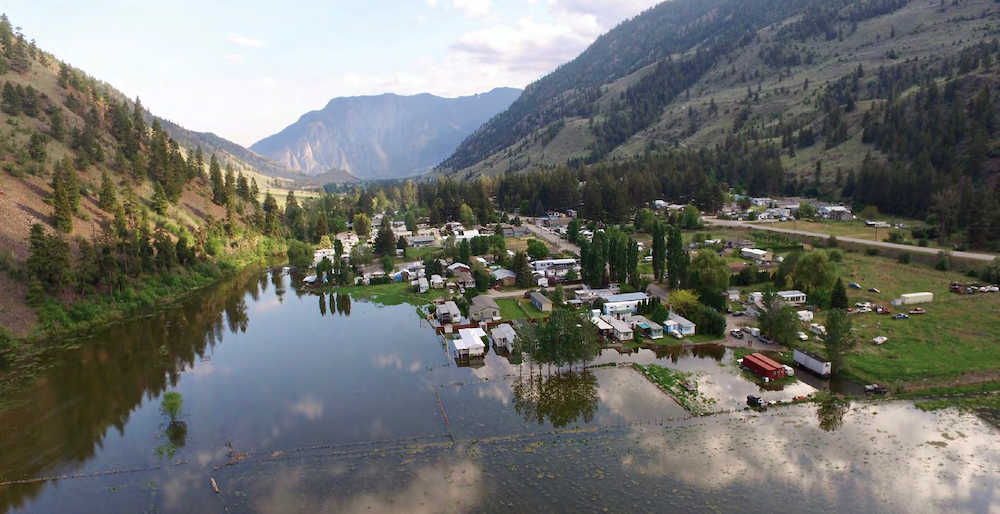 You may have noticed lately that your insurance premium has been increasing every year, whether it's your home, strata or auto insurance. The climate is becoming more volatile causing flooding, forest fires and landslides. Catastrophic insurance claims are increasing as these disasters become more common around the world and affects what we all pay today and in the future. 
According to the Insurance Bureau of Canada, the 10 year moving average global economic losses has increased by approximately 13 times from 1970 to 2014. In the 1970s, the global economic losses from climate-related extreme events were in the order of magnitude of $10 Billion (2012 US constant dollars). In the past 5 years, the estimated total economic losses exceeded $100 Billion (2012 US constant dollars) on average.
Purchasing a Home in a Floodplain
Properties located in a floodplain are more susceptible to seasonal flooding that can damage buildings, septic systems, contaminate wells and create dangerous or unsafe hazards on the property. Overland flood insurance has become more readily available to consumers at an additional cost. If a flooding disaster occurs and DFA (Disaster Financial Assistance) is authorized for a disaster event, an applicant who could reasonably and readily have purchased overland flood insurance would NOT be eligible for DFA. It is recommended that home buyers and owners consult with their insurance company and the proper authority regarding the potential costs and risks should a flood occur.
Flood Insurance & Prevention
Since water damage is the number one cause of home insurance claims, it helps to know what types of water damage are covered. Typical insurance policies include coverage for water damage caused by roof leaks, plumbing leaks from burst pipes, malfunctioning taps, improper connections & hot water tank failure. Optional coverage may be obtained at an additional cost for the following: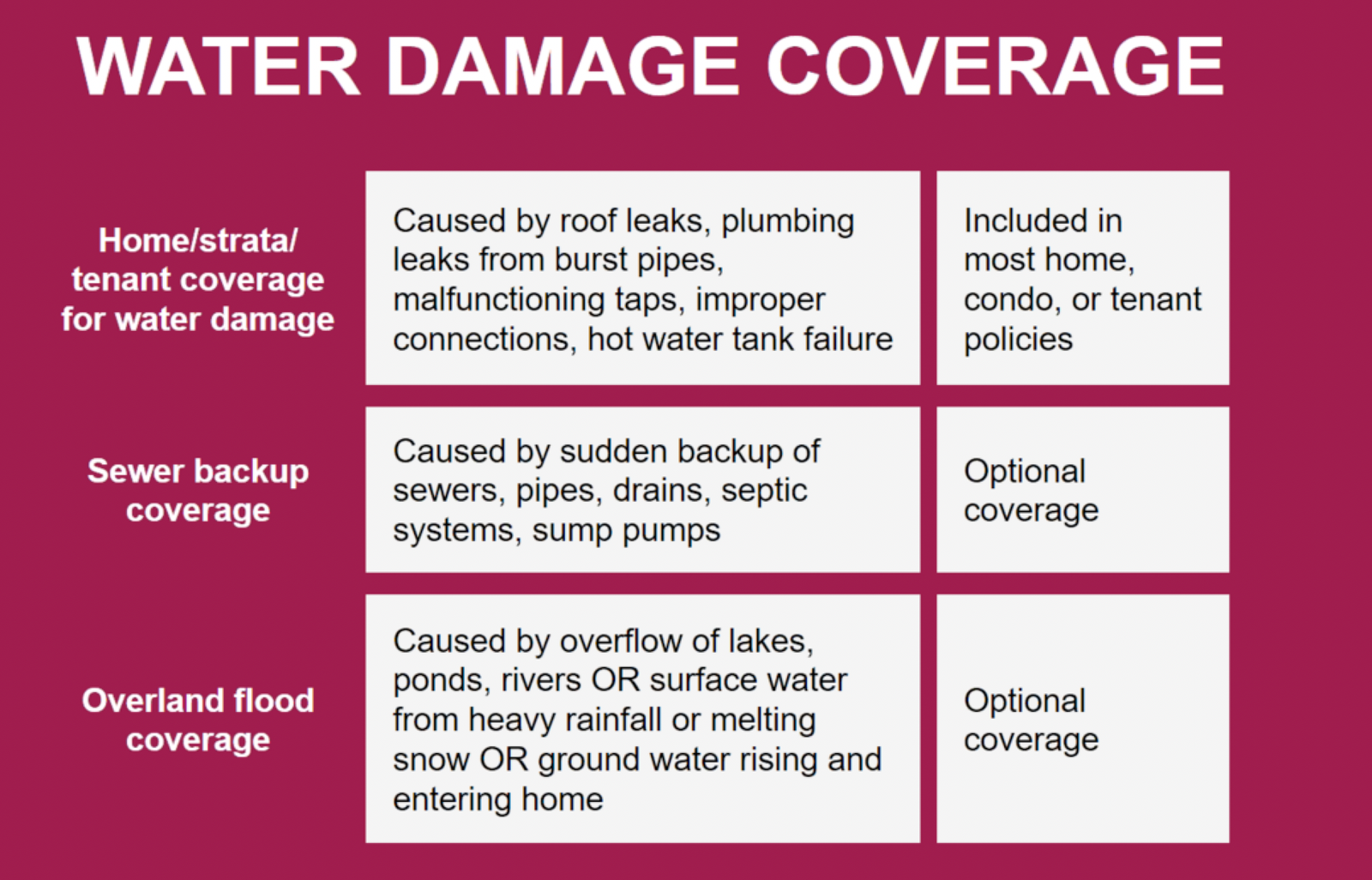 Steps You Can Take to Protect Your Property



INSIDE YOUR HOME
☐ Avoid keeping valuable items in the basement .
☐ Don't pour fats, oils and grease down your drains .
☐ Raise large appliances, furnaces, hot water heaters, electrical panels and oil tanks above any anticipated flood level .
☐ Install a backwater valve as recommended by your municipality . Some municipalities may offer subsidies to offset the installation cost .
☐ Reduce home water use during heavy rainfalls .
☐ Install flood shields or barriers for basement windows and doors . The tops of the shields should extend above ground level.
OUTSIDE YOUR HOME
☐ Ensure proper lot grading . If possible, build up the ground around your house so that water will drain away from basement walls .
☐ Landscape with plants that resist soil erosion . If you live in an area prone to wildfire, consider fire resistant plants .
☐ Keep water out of window wells . In the winter, clear snow away from the house foundation .
☐ Clean and maintain downspouts and eavestroughs at least once a year . Keep any city drains near your property free of leaves and other debris .
☐ Check that sidewalks, patios, decks and driveways don't shift over time and cause water to drain towards your house.
☐ Disconnect downspouts connected directly to the French drains, or weeping tile (trench filled with gravel or containing a perforated pipe that redirects surface water or groundwater away from your home) or sanitary sewer laterals (pipes that connect your home's plumbing system to your municipal sewer system) .
☐ Make sure downspouts extended at least six feet from your basement wall . Water should drain away from your house, and neighbouring houses, towards the street or backyard.
Purchasing a Home During Fire Season
Purchasing a home during fire season can put a buyer at risk if they are not aware of the steps to obtain insurance during the home buying process. Simply walking in and asking for a quote does not ensure that you will receive home insurance upon Completion. An insurance policy is usually mandatory for a mortgage to be secured and could delay or void an offer if a buyer is not "bound" to an insurance policy. Insurance companies will generally "bind" a new policy for 30 days maximum before completion. Where buyers are not able to obtain insurance, they should seek independent legal advice.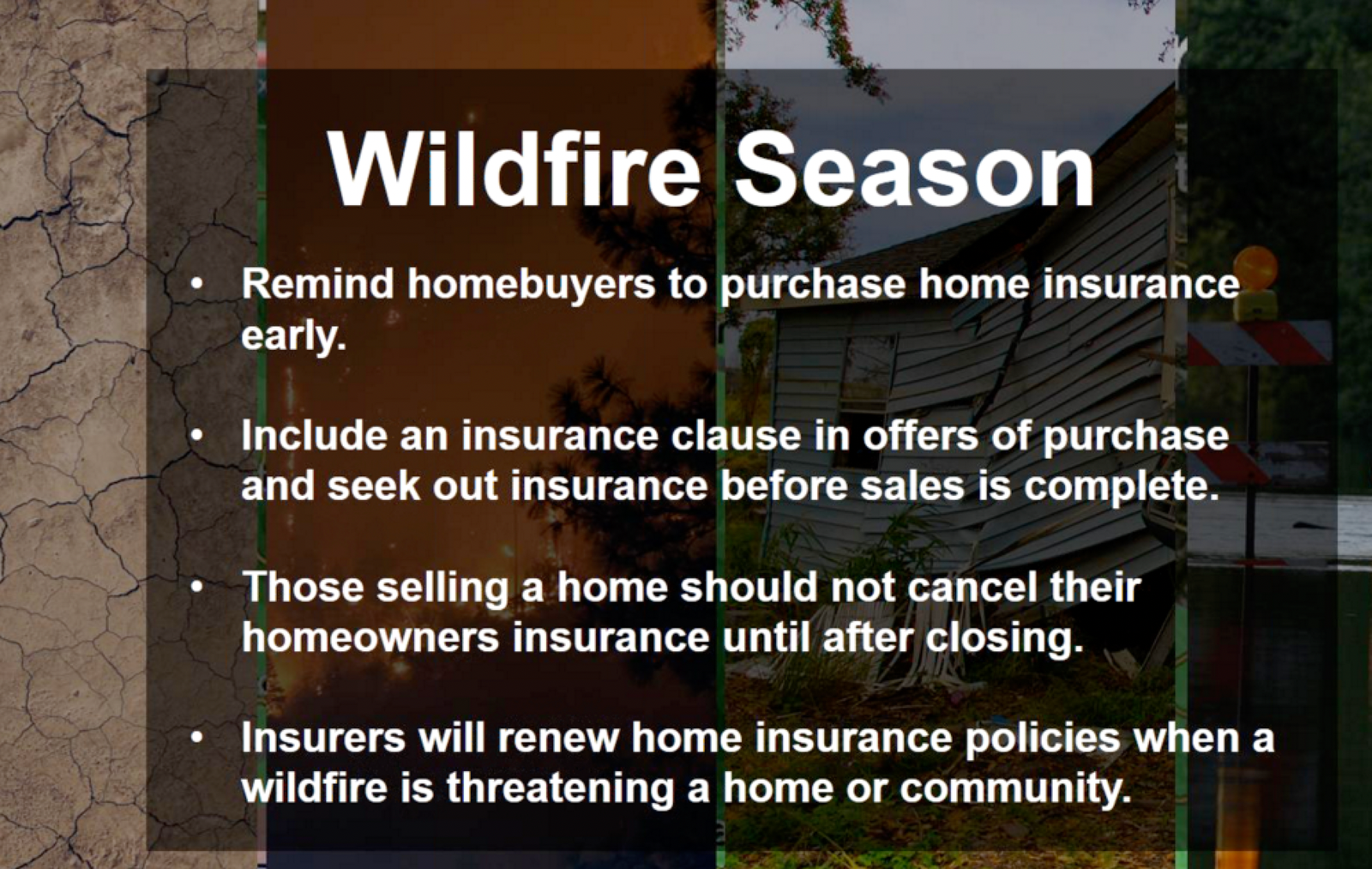 If there is an active forest fire within proximity of a home, new insurance policies are unlikely to be approved until the threat eases or the fire has been extinguished. Some insurers may also restrict new policies based on proximity to fires, even when no evacuation orders or alerts are declared. Changes to existing insurance policies, such as requested increases to coverage limits, may also be declined.

Insurance for properties in unprotected fire districts is more expensive than in protected fire districts. An unprotected fire district is an area without fire hydrants and a fire department. Buyers who may have trouble obtaining insurance are encouraged to contact local insurance providers, because they have different approaches and criteria.

While it may seem daunting to purchase a home during wildfire season it is important to have the right professionals advising you along the way so that your real estate purchase is a smooth and stress free experience. REALTORS® can help protect homebuyers by using the Subject to Fire/Property Insurance clause developed by the Real Estate Council of BC.

 Always consult with an insurance broker regarding specific policies, coverage and costs.


Climate Resilience Plan

Mention of the Okanagan region conjures up happy images of beaches, lakes, spectacular wineries, cherries and peaches, and the unique semi-arid landscape that surrounds us. Recent news headlines, however, show us different pictures: flooded landscapes, wildfires threatening homes and businesses, and mudslides blocking roads. Both sets of images reflect the current reality of Okanagan living, a reality that we must address to maintain what we value. These events are not unique to the Okanagan; they are occurring in many Canadian communities and around the world.


The good news story is that each of us can take practical steps to better protect our properties and ourselves. We can address new challenges and shift our practices to suit our changing climate. We have much to learn from the Syilx Okanagan People's relationship of responsibility and reciprocity with the land and water. We must commit to make better decisions as stewards for the natural environment.

This guide summarizes climate challenges, and introduces solutions to support Okanagan homeowners in their efforts to protect and enhance their real estate investment. The goal of the guide is to raise awareness and identify key actions homeowners can take to protect properties from flood, drought, fire, and invasive species. Directed at both new owners and long- time residents, this guide illustrates cost-effective investments that create safer, more resilient communities and provides and illustrates simple options to modify homes and landscaping.

Resources
This guide also contains useful links for further reading, allowing the reader to dive more deeply into each topic and can be accessed here: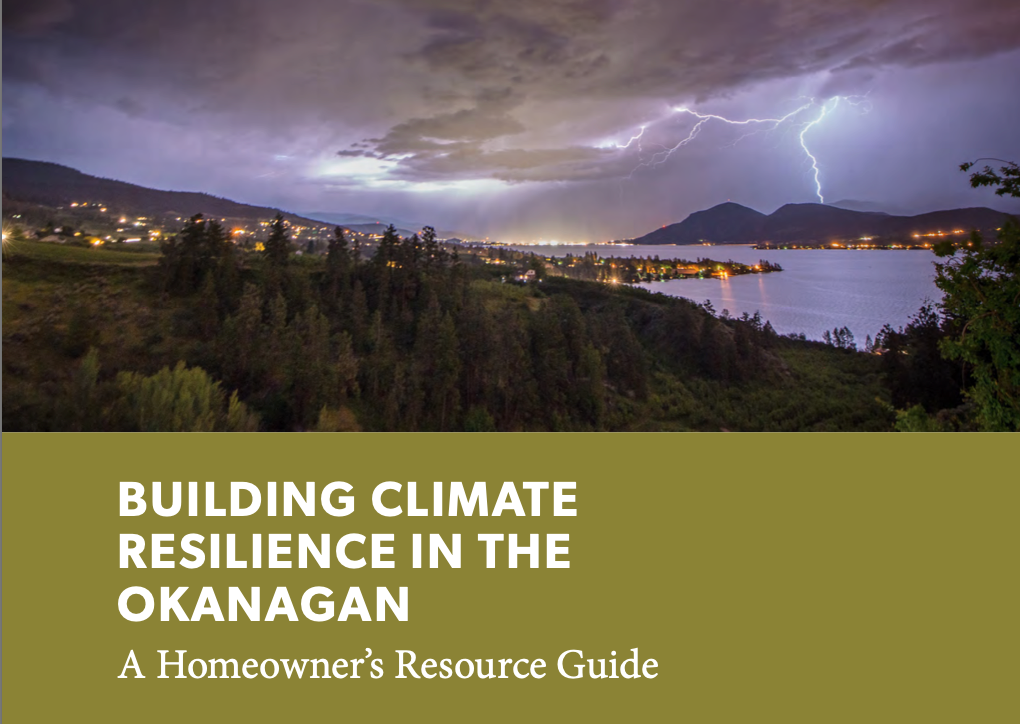 RDOS Climate Resilience Plan:
Area "H" Floodplain Mapping
floodplain maps can be accessed here:
General Flood Preparation in The Okanagan