This is a quick review of the Navien tankless water heater and the Goodman high efficient natural gas forced air furnace that was installed in my home on August 2015.

Navien Tankless Water Heater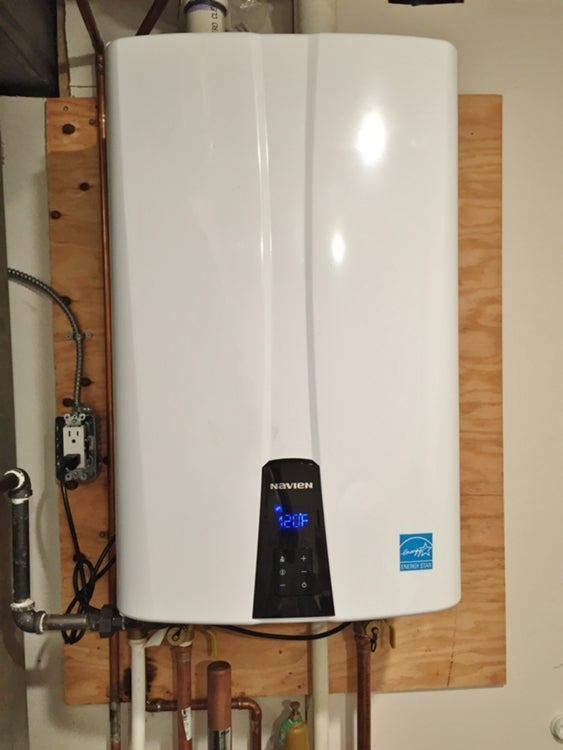 In an effort to increase efficiency and let's face it, to replace an aging hot water tank that should have blown up a long time ago I finally decided to take the monetary plunge before disaster struck with Murphy's Law of inconvenience.
The old natural gas hot water tank was pushing 15 years old and was showing corrosion at the water connections. It served its purpose but I knew it was on its last legs of service in my busy household.
Once the tank was uninstalled, some of the plumbing needed to be rerouted to connect to the new tankless heater. I used this opportunity as a preventive measure to replace the water pressure regulator and have a water hammer arrester installed to help relieve the daily pressure demands and hopefully increase the longevity of the 40+ year old copper plumbing throughout the home.
The installed unit is a Navien NPE-240A tankless water heater. This is an on-demand system that does not require a large tank of water to be constantly heated 24/7. It is a compact unit that once installed, opens up space in the laundry room for easier manoeuvrability of daily household chores and easier ingress/egress through the basement doorway to the outside.
The biggest positive is the efficiency of the heater. The old tank had a pilot light that was constantly burning natural gas and heating 60+ gallons of water 24/7 whether it was used or not. The new tankless is only "on" when in use and doesn't need an inefficient pilot light. This model also has a Hot Water Recirculation Mode that features a 1.5 litre Buffer Tank for internal or external recirculating for instant hot water at the faucet. Some minor negatives is that the unit's blower fan can be noisy when in operation. This may be an issue for you if you're looking to install in a closet next to bedrooms or a living room. It's not an issue in my case since the unit is located in the laundry room down in the basement. Navien provides a 5 year parts and 15 year heat exchanger warranty.
Goodman Natural Gas Furnace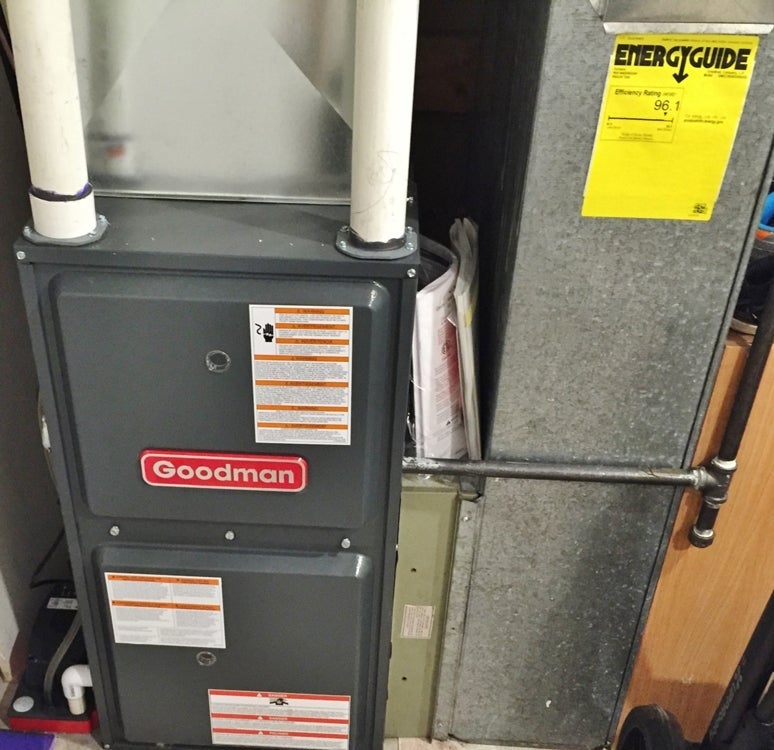 Next up on the old tech chopping block was my 13 year old "mid efficient" Frigidaire gas furnace. I must say this obsolete, yet reliable appliance ran strong and never skipped a beat through all those years. Household furnace efficiency has come a long way over the last 10 years so it was time for a replacement. I exchanged the unit for a Goodman MEC96 two stage natural gas forced air furnace. It is a condensing unit that features a 96.1 US ENERGYGUIDE efficiency rating and has a multi speed fan motor for quiet and efficient operation. The Goodman MEC96 Furnace provides a 5 year parts and 20 year Heat exchanger warranty. There are no cons to replacing an old "mid efficient" gas furnace except for the initial cost to do so. The new unit is way more efficient to run, operates quieter and the heated air in the vents feels warmer compared to the old Frigidaire.
Both the tankless water heater and furnace achieve their high level of efficiency by extracting almost all of the heat from the products of combustion and cooling  them to the point where condensation takes place. These "condensing units" require a condensate pump to route the water byproduct to an appropriate drain line.
So far, my experience living with these new units for the last four months has been very positive. Together, they should be more economical to run by substantially decreasing my gas usage, especially during the chilly winter season.